How to convert between PAL and NTSC formats?


This article will show you How to convert PAL to NTSC and convert NTSC to PAL formats.


Required software: Movavi Video Converter.
Required knowledge: Understanding PAL and NTSC picture standards

for Mac Users, please visit: How to convert NTSC DVD to PAL on Mac?


WHEN DO YOU NEED TO CONVERT YOUR VIDEO FROM NTSC TO PAL OR VICE VERSA?

The answer is simple: when you want people overseas to see your video.
Strangely enough, television sets are different in different countries. This is due to the different picture formats that exist in the world. So, if you record your video in the United States on a NTSC camcorder, people in Europe will most likely be unable to watch it on their VCRs.

Almost the same is the situation when we talk about digital video. A DVD recorded in NTSC format can not be played on a DVD player that understands PAL format only. Below you'll find more detailed information about NTSC and PAL formats.

PAL
PAL format is used in European and Asian countries. PAL (Phase Alternating Line) is used in almost all Western European countries, Australia and in some countries of Africa, South America and Asia.


NTSC
NTSC (National Television System Committee) is a Color TV standard for the United States, Canada, Japan, countries of North and South America and Asia.


There is also a format named SECAM (Sequentiel couleur avec memoire, French for "sequential color with memory"). It was introduced in France, and now France, most countries of Eastern Europe, many Asian and some African countries broadcast in SECAM. Some SECAM countries are currently switching to PAL and broadcasting in both PAL and SECAM formats.

To resolve the problem of incompatibility of NTSC and PAL formats, you need to use a video converting software, like Movavi Video Converter.

converting PAL to NTSC and convert NTSC to PAL, Movavi Video Converter features all necessary tools for converting NTSC files to PAL and PAL to NTSC. In the following example, we'll see how to convert a NTSC file to the PAL format video ready to be burned on to a DVD.

Here are Step-by-step Guide:


1. Click the +DVD button to open DVD.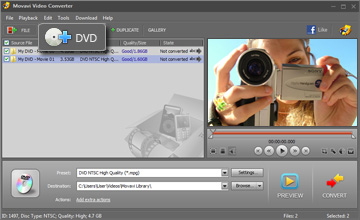 2. The next step is to Choose the PAL / NTSC Preset: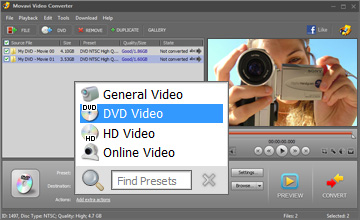 In the settings panel at the lower part of the window, select "DVD Video" from the Preset list. Choose the right preset.


3. Then, convert your DVD by clicking Convert: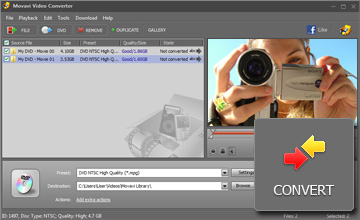 Click the "Browse" button next to the Destination list to Select an output directory. Finally, click the "Convert" button. Using this software to convert NTSC to PAL formats couldn't be simpler!


After the conversion process finishes, you'll get a file in the PAL format that you can burn to a DVD and send your friends in Europe!

If you have a PAL file that you want to convert to NTSC, simply select DVD NTSC Compatible in the Output Format menus.



Related Article and Tutorials:

How to convert between PAL and NTSC formats?
How to reduce the size of my video?
How to repair purple video?
How to fix blurred video?
How to filter interlaced video?
How to enhance your video with EnhanceMovie?
How to make yur own frame?
how to convert to an amv video?
How do I Recover Deleted Files and Folders?
How do I recover lost files and folders?
How to Recover Deleted Email files?
How to recover deleted or lost photo images?
How to recover lost Word files?
How do I Recover deleted, missing or lost Logical Drives?
How to remove mosaic from video?
M4B Converter Tutorials - Convert M4B to MP3
How to remove pixellation from video?
How do I recover files from Raw Hard Drive?
Recover Encrypted file on NTFS Drive?
Recover Compressed files on NTFS Drive?
recover files from dynamic-disk in Windows?