How do I Recover deleted, missing or lost Logical Drives?

What is partition?

To divide memory or mass storage into isolated sections. In DOS systems, you can partition a disk, and each partition will behave like a separate disk drive. Partitioning is particularly useful if you run more than one operating system. For example, you might reserve one partition for Windows and another for UNIX.

In addition, partitioning on DOS and Windows machines can improve disk efficiency. This is because the FAT system used by these operating systems automatically assigns cluster size based on the disk size: the larger the disk, the larger the cluster. Unfortunately, large clusters can result in a wasted disk space, called slack space. There is an entire sector of the software industry devoted to building utilities that let you partition your hard disk, such as Fdisk, Partition Magic, EASEUS Partition Manager.

Explanation

Whether partition can be recognized by system or not depends on the partition table and boot sector of partition. If partition table or boot sector of partition is destroyed by virus or deleted accidentally, you will not see the partition you need. In fact, the partition is not actually lost.

To recover data from a drive containing lost or missing partition, follow these steps:

First We recommend that you use professional partition recovery tool - Partition Table Doctor to recover missing or lost partitions.

If Partition Table Doctor cannot help you, you can use Data Recovery Wizard to recover files:

1.Click the "AdvancedRecovery" button on main window of Data Recovery Wizard.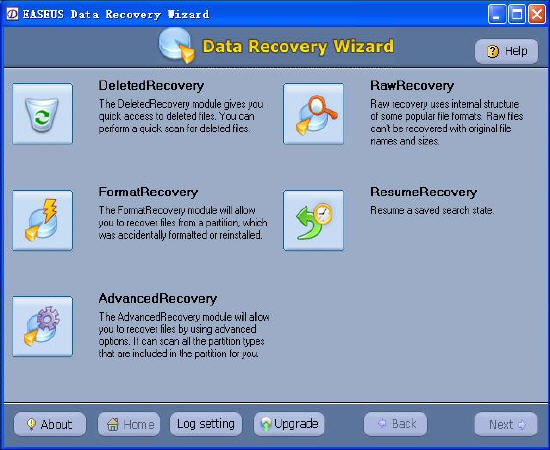 2.You can see the list of all physical device(s) and logical volumes found on your computer.

3.Select the physical disk that contains the corrupt or missing logical drive and click the "Next" button to run partition recovery.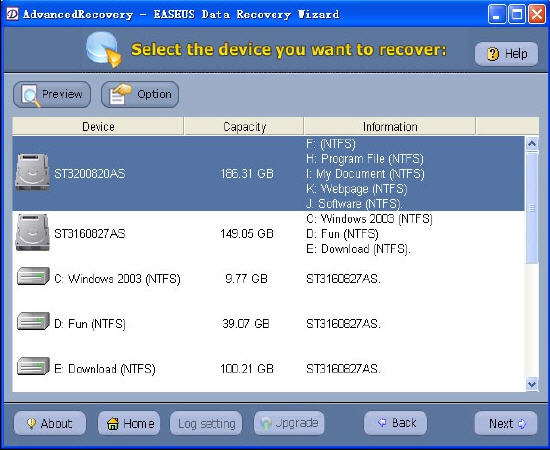 4. Data Recovery Wizard would scan the hard disk for all the lost partitions and would present the list of found partitions.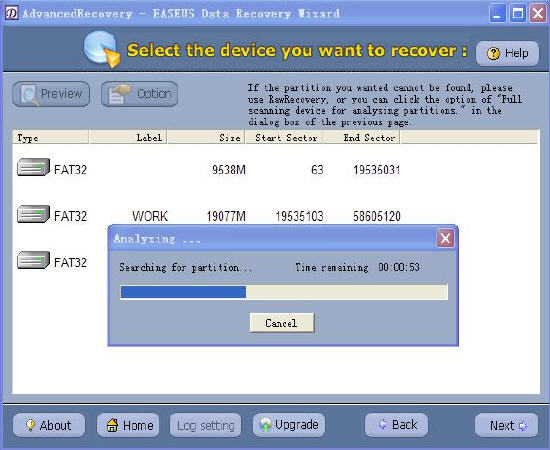 5.Select the corrupt or missing logical drive from the list and click "Next" to begin Scanning for Files.

6. Data Recovery Wizard analyses the drive data structures and file system attributes and displays the directory tree. After this scanning is finished, you'll see file/folder tree.

7.Select the file or directory that you want to recover and press the "Next" button.

8.Select some directories or files and press the "Next" button to save the data.

OK. You successfully complete to Recover deleted, missing or lost Logical Drives.

Note:

1.If no lost or missing logical drives are found, please click "OPTION" button on device list window, then a dialog window will appear, please click "Full scanning device for analyzing partitions" radio box and press "OK" button.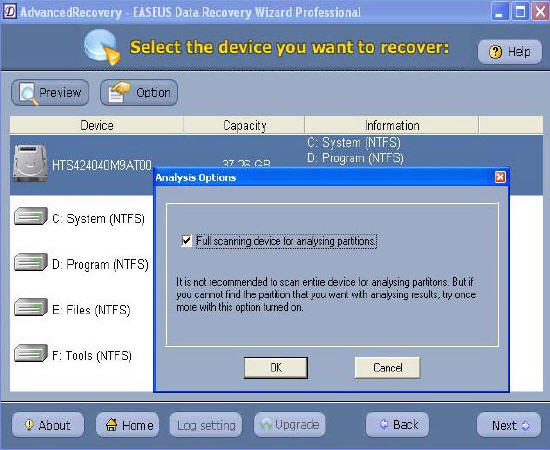 2.If the partitions you wanted cannot be found, please use RawRecovery.

Caution: Saving file(s) to the partition or drive from where you are recovering data, for it may result in overwriting of data, and would result in permanent data loss!!!





Related Article and Tutorials:

How to Recover data from Ghost hard disk drives by error?
How to recover files from EXT2/EXT3 Drive?
How do I Recover Deleted Files and Folders?
How to recover SanDisk files with SanDisk Data Recovery?
How do I recover lost files and folders?
How to Recover Deleted Email files?
How to recover deleted or lost photo images?
How to recover lost Word files?
How to recover lost Excel files?
How do I recover files from Raw Hard Drive?
How do I recover files from formatted hard drives?
How do I recover fdisked drives?
How do I recover lost files from re-partitioned hard drive(s)?
How do I recover hard disks involving Scandisk and Chkdsk error?
How do I recover files from Raw Hard Drive?
Recover Encrypted file on NTFS Drive?
Recover Compressed files on NTFS Drive?
recover files from dynamic-disk in Windows?