How to recover deleted or lost photo images?


You have lost the only copies of precious photos, and you need to recover them. Recovering digital photos from CDs, hard drives, memory cards, digital cameras, iPods and other players is one of the most common data recovery tasks. Digital storage media are quite fragile compared to photographic prints, and digital camera users often make just a single copy of their precious pictures before deleting the original. This results in tragedy when the copy cannot be read.

If some of your irreplaceable photos seem to be lost: don't panic! Unless the medium on which they are stored has been physically damaged, there is a good chance that you can get them back. However, if the images were stored on a rewriteable medium such as a hard disk, CD-RW or memory card, some or all of the image files may have been overwritten. If this is the case, at least don't write to that disc or card any more until all the options for recovering the data have been exhausted.

Data Recovery Wizard Pro will recover lost, deleted and formatted digital photos on hard drive or removable media. Works with all hard disk and every type of digital card reader appearing as a drive letter in your local PC. If you have received an error: Media is not formatted would you like to format now? then Data Recovery Wizard will save the day! Don't lose great shots of those special moments! Data Recovery Wizard will recover them for you! Our data recovery software easily recovers lost digital photos, Audio & Video files from removable media as well as hard drives.

Data Recovery Wizard is helpful in the following cases of data loss.
Provides Image Recovery after corruption due to the card being pulled out while the camera is on.
Provides Photo Recovery after corruption due to turning the camera off during a write process.
Provides Digital Media Recovery after Formatting of the digital storage media.
This Picture Recovery utility recovers data lost due to, using media between different cameras/computers.
Provides Picture Recovery after Accidental deletion of the photo.

To recover photo images, movie and sound files such as BMP, JPG, JPEG, TIFF, PNG, GIFF, MP3, WAV, MPEG, MPG, AVI and MOV from floppy, Memory Sticks, Flash Cards, Sony Memory Stick, IBM Micro Drive, SD Cards, MMC Cards, XD Cards, Secure Digital Card, Hard Disks, Zip Disks, Mini Disks use Data Recovery Wizard.

If you accidentally deleted the photo images from your hard disk:
Check the Recycle Bin.
If they are not in the Recycle Bin then for the best chance of recovery use Data Recovery Wizard.
Deleted files (including photo images) may also be recovered using Data Recovery Wizard.
If the images you want to recover are on a Flash memory card or in your camera or iPod:
Connect the memory card, camera or player so that it can be accessed like a removable hard drive.
Use a specialist digital image recovery tool Data Recovery Wizard.
To recover data from a drive containing lost photos, follow these steps:

1.Click the "AdvancedRecovery" button on the main window of Data Recovery Wizard.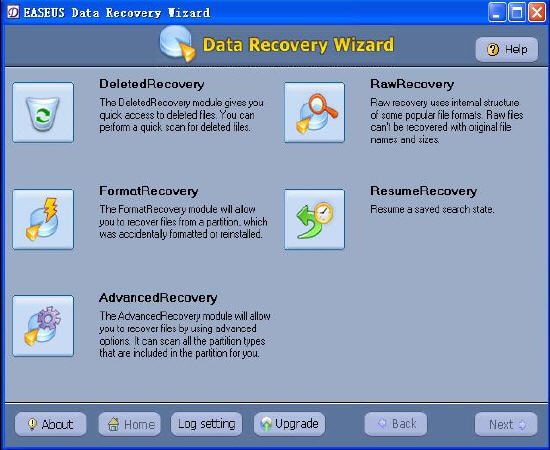 2.You can see the list of all logical volumes found on your computer.

3. Choose one of them and press the "Next" button (if you are familiar with file system details, you can change "OPTION" before pressing the "Next&quot<>; button)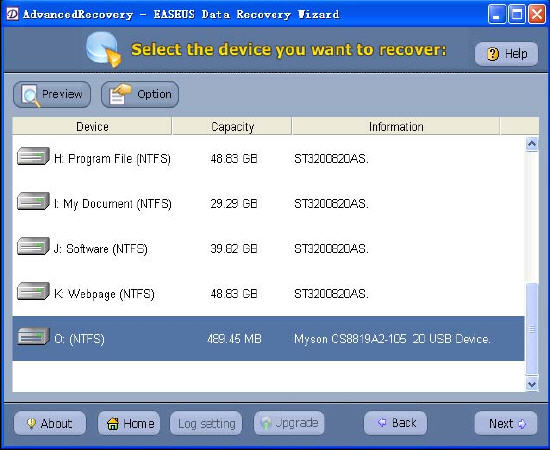 4. Data Recovery Wizard will read file system on selected volume.

5.This step may take some time depending on the size of disk space. You have to wait until scanning is finished.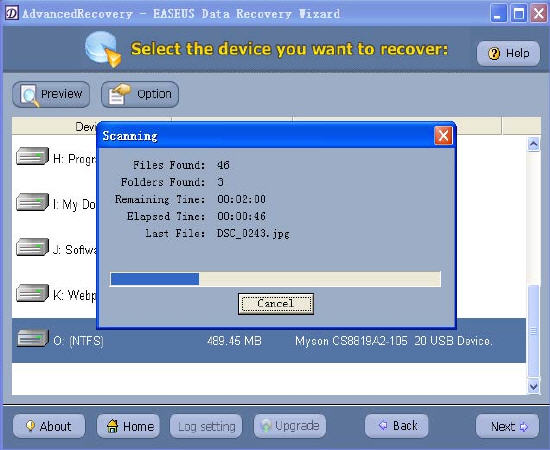 6. Otherwise Data Recovery Wizard may not be able to find and recover lost photo files.

7.After this scanning is finished, you'll see file/folder tree.

8.You can click "View Style" to see thumbnails or right click to preview the photo.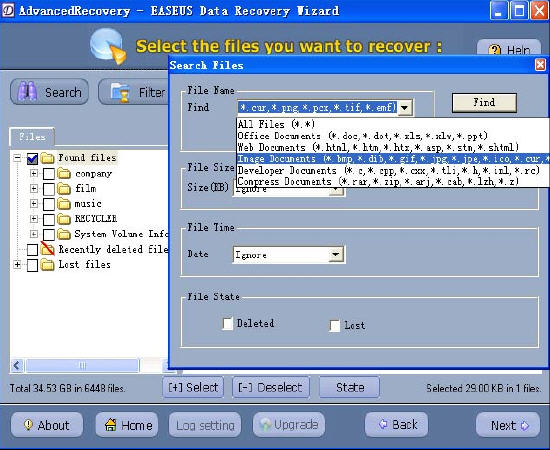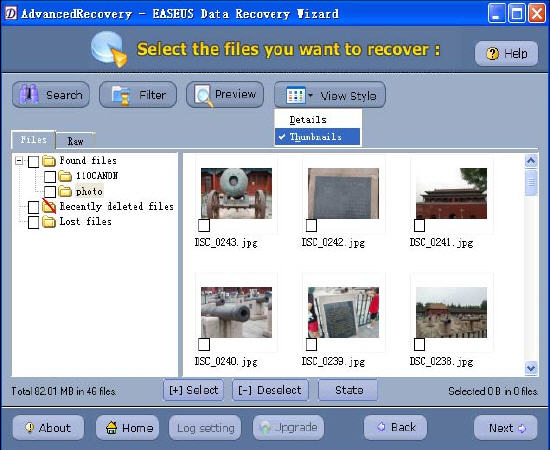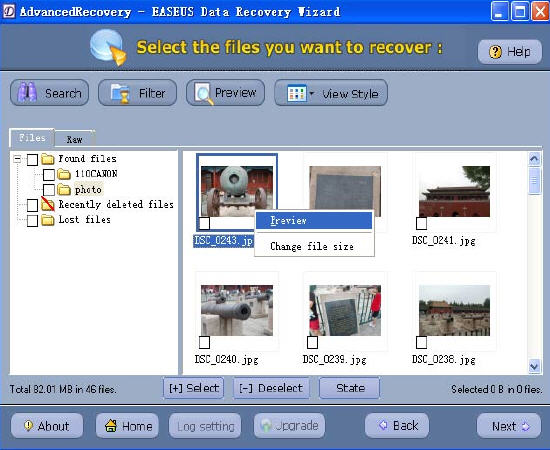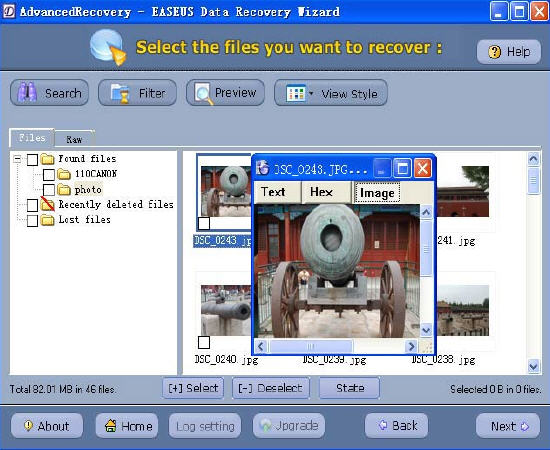 9. Select the file or folder that you want to recover and press the "Next" button.

10.Select a directory and press the "Next" button to save the data.

In conclusion,Photo One Recovery is an easy-to-use and powerful image recovery software designed exclusively for digital camera users. Why not free download and enjoy the powerful Photo Recovery Genius right now?

Note: You can also use "RAWRecovery" to recover lost photos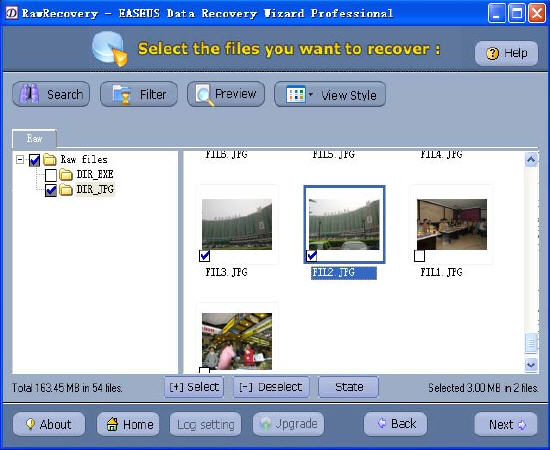 The demo version of Data Recovery Wizard gives you a much fairer idea about chances of data recovery from your hard disk before deciding upon the purchase. You can buy full version to recover deleted or lost photo images! Buy Data Recovery Wizard Pro Now


Caution: Saving file(s) to the partition or drive from where you are recovering data, for it may result in overwriting of data, and would result in permanent data loss!!!




Related Article and Tutorials:

How do I Recover Deleted Files and Folders?
Recover Deleted Photos from Memory Card?
How to recover SanDisk files with SanDisk Data Recovery?
How do I recover lost files and folders?
How to Recover data from Ghost hard disk drives by error?
How to recover files from EXT2/EXT3 Drive?
How to Recover Deleted Email files?
How to recover lost Word files?
How to recover lost Excel files?
How do I Recover deleted, missing or lost Logical Drives?
How do I recover files from formatted hard drives?
How do I recover fdisked drives?
How do I recover lost files from re-partitioned hard drive(s)?
How do I recover hard disks involving Scandisk and Chkdsk error?
How do I recover files from Raw Hard Drive?
recover files from dynamic-disk in Windows?