How to fix the blurred video


When you shoot fast moving objects such as birds, animals, cars, athletes etc., the details in your video get a bit smudged and blurry. Although our eye can't see all details of moving objects either, we definitely want to have everything in our videos as sharp as possible.

Enhance Movie - Personal is a comprehensive but easy to use video enhancer. With it, you can take any movie or home video and enhance it with specialized filters, such as Deinterlace, Brightness, Contrast, Levels and more. If now you want to fix blurred video, I recommend you this powerful Tool - Enhance Movie.

In the image below we see a heron flying away. At the first sight, this video doesn't need fixing. However, we'll try applying the

Sharpening filter and look what'll happen - especially to the areas marked with yellow circles.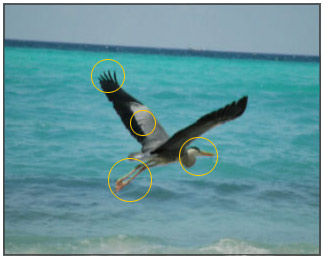 1.Open your file with EnhanceMovie by clicking



2.Right-click the

Sharpening filter's icon and select Add and Customize from the drop-down menu: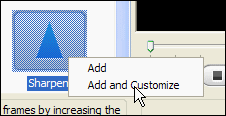 3. This will add the filter to the list of applied filers and open the filter's settings dialog. Move the slider to the maximum (100) and click OK.
Hint:You can also type in the values using your keyboard.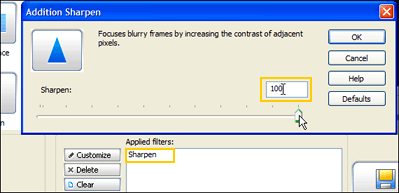 To better see the changes, we'll zoom the original and fixed videos 300%. Let's look closer at the problem areas that were marked with the circles.

| | | | |
| --- | --- | --- | --- |
| a. Before | | After | |
| | | | The wing became a bit darker, that renders the real color better. The shapes of the long feathers at the end of the wing are more distinct, we can clearly see the border between each feather and between the wing and the water. |
| b. Before | | After | |
| | | | The details of the wing became more sharp and clear. |
| c. Before | | After | |
| | | | The thin legs had almost no details. After restoring, we're able to see the clutches; shadows became more sharp as well. |
| d. Before | | After | |
| | | | The head became sharper. As we can see on the fixed video, the black spot at the top of the head and the beak became darker. |


Compare the original and the enhanced videos at the animated image below. Remember, we thought this video was perfect, but look: even the waves became sharper!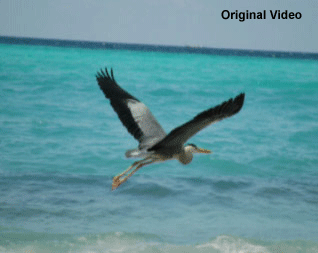 Related Article and Tutorials:
How to convert between PAL and NTSC formats?
How to reduce the size of my video?
How to repair purple video?
How to restore too dark video?
How to filter interlaced video?
How to enhance your video with EnhanceMovie?
How to remove mosaic from video?
How to remove pixellation from video?