How to repair purple video


Here we recommend a video tool, called EnhanceMovie. This tool will help you repair the purple video quite easily!


This is a common problem that occurs when capturing video from old VHS tapes or if bad white balance has been set in a camcorder (manually or automatically). The image below is an actual picture grabbed from a video with bad white balance. You can see that most of the colors in the picture are shades of blue no matter what colors were there in reality. We'll have to correct colors or, speaking more confusing language, chroma.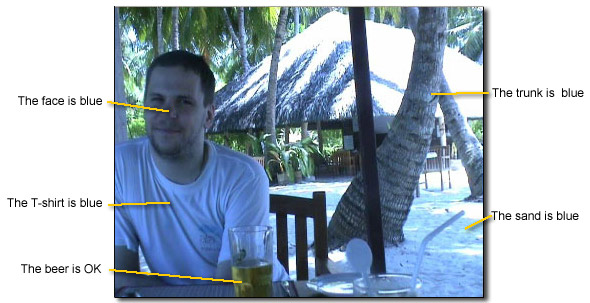 To fix this video, we are going to warm it up pretty well at first and then emphasize the colors. To do this, we'll use just 2 filters: Color Temperature and Hue/Saturation.

1. Apply Color Temperature.
After opening the file in EnhanceMovie, click the Color Temperature icon in the Filters box and click Add button:

This will apply the Color Temperature filter.
Double-click the filter's name in the Applied filters box.





You'll see the filter's settings dialog:





Drag the slider to the maximum value (+100). This will add some red color, making video more "warm".

Hints:
To apply the filter, you can also simply drag and drop the filter's icon to the Preview window.
To adjust the filter settings, you can also click

2. Repeat Color Temperature
Here is what we've got after the first step: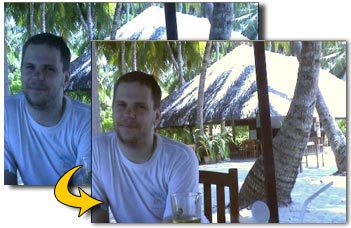 We see that the highest value (+100) of the Color Temperature filter was not enough in our case: some colors still remain somewhat blue and purple. We have to apply the same filter Color Temperature once again with the maximum value +100. Just repeat what you did in the first step: add the Color Temperature filter and set its value to +100.

Hint: you can repeat applying the same filters as many times as you need to achieve the desired effect. Obviously, settings for each individual filter may vary.
3. Saturate
After two steps we've got finally rid of the blue tint: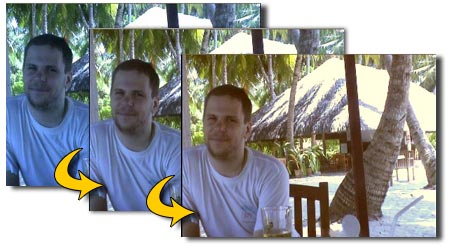 Now let's make colors more vivid with the Hue/Saturation filter. Drag it from the Filters list to the Applied Filters box and set the Saturation level to +90.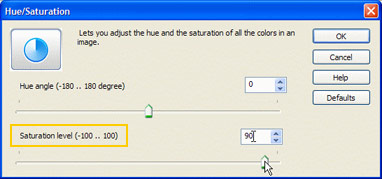 That's it! To see the result, switch to the Split screen: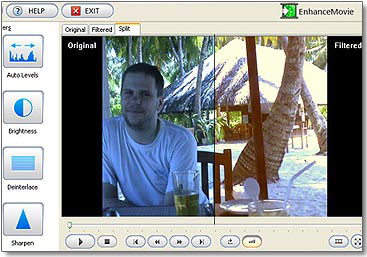 As you can see in the Filtered half, the palm leaves' color became more rich and green, the trunk became brown, sand gets white shade, while the face healthy pink color.
Compare the original and the enhanced pictures: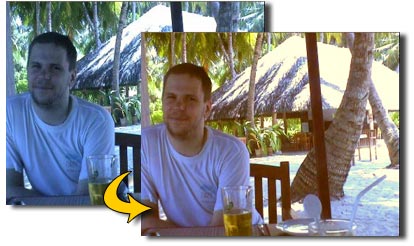 OK. You have complete to repair the purple video. Just free download this powerful video tool to repair the purple video.



Related Article and Tutorials:

How to convert between PAL and NTSC formats?
How to reduce the size of my video?
How to remove mosaic from video?
How to make PDF documents with the office software?
How to remove pixellation from video?
How to repair purple video?
How to fix blurred video?
How to filter interlaced video?
How to enhance your video with EnhanceMovie?
How to make yur own frame?
how to convert to an amv video?
How do I Recover Deleted Files and Folders?
How do I recover lost files and folders?
How to Recover Deleted Email files?
How to recover deleted or lost photo images?
How to recover lost Word files?
How do I Recover deleted, missing or lost Logical Drives?
How do I recover files from formatted hard drives?
How do I recover fdisked drives?
How do I recover lost files from re-partitioned hard drive(s)?
How do I recover hard disks involving Scandisk and Chkdsk error?
How do I recover files from Raw Hard Drive?
Recover Encrypted file on NTFS Drive?
Recover Compressed files on NTFS Drive?
recover files from dynamic-disk in Windows?