How to Partition a Hard Drive


The Reason for Hard Drive Partitioning

Hard Drive Partitioning divides the data storage space of a hard disk into separate areas referred to as 'partitions'. Partitions are usually created when the hard disk is first being prepared for usage. Once a disk is divided into partitions, directories and files may be stored on them. Because of later changes on the computer and operating system, often an administrator or power user will be faced with the need to resize partitions, create new partitions in the unallocated space, and sometimes even undelete partitions that were previously removed or deleted.


Partition your Hard Drive with the right tools

Hard disk partitioning tools will allow you to create additional partitions from existing ones by resizing the existing partitions and creating empty, un-used space on which you can create new partitions. The most important aspect of such tools is their ability to do this without losing your data that is currently on your existing partitions. Such tools allow you to create and format these new partitions.


Hard Drive Partitioning: Use Caution!

Most tools will let you convert a partition from one file type to another, i.e. from NTFS to FAT/FAT32 or vice versa. Needless to say that in most cases, such a conversion, especially from NTFS to FAT/FAT32 will cause the files to lose their NTFS permissions (ACLs), and in some cases where EFS was used to encrypt the files, it will actually cause you to lose access to these files. So beware!

Some of these tools may be able to help you recover deleted partitions, and if data on that disk was un-damaged, actually help you gain access to that data. Some, but not all of the tools may have the ability to move existing partitions from one location on the disk to another location, again, without losing data.


Now Introduce 10 Free Partition Tools to you!

1. Partition Wizard Home Edition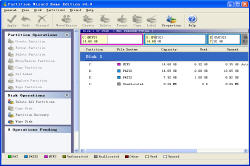 Partition Wizard Home Edition is a free partition manager designed by MT Solution Ltd. Home users can perform complicated partition operations by using this powerful but free partition manager to manage their hard disk partition such as Resizing partitions, Copying partitions, Create partition, Delete partition, Format partition, Convert partition, Explore partition, Hide partition, Change drive letter, Set active partition and Partition Recovery. Partition Wizard Home Edition is designated for home user only, to use Partition Wizard in a business envirnoment, Partition Wizard Business Edition is required.
Get more information and your copy here.

2. Ultimate Boot CD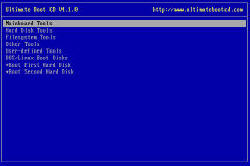 The Ultimate Boot CD is a bootable CD containing tools including: Hard Disk Installation Tools, Hard Disk Diagnostic Tools, Hard Disk Device Management Tools, Hard Disk Wiping Tools, Hard Disk Cloning Tools, Hard Disk Low-Level Editing Tools, Partition Tools, DOS Boot Disks and Linux Boot Disks.
With it, you can run Ultimate Boot CD from your USB memory stick. A script on the CD prepares your USB memory stick so that it can be used on newer machines that supports booting from USB devices. You can access the same tools as you would from the CD version.
Get more information and your copy here.

3. GParted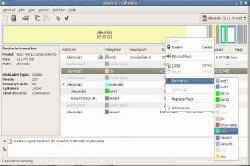 GParted allows the individual to take a hard disk and change the partition organization therein, while preserving the partition contents. GParted is an industrial-strength package for creating, destroying, resizing, moving, checking and copying partitions, and the file systems on them. This is useful for creating space for new operating systems, reorganizing disk usage, copying data residing on hard disks and mirroring one partition with another. It enables you to use all the features of the latest versions of GParted. GParted Live can be installed on CD, USB, PXE server, and Hard Disk then run on an x86 machine.
Get more information and your copy here.

4. System RescueCD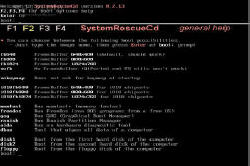 SystemRescueCd is a Linux system on a bootable CD-ROM for repairing your system and recovering your data after a crash. It aims to provide an easy way to carry out admin tasks on your computer, such as creating and editing the partitions of the hard disk. It contains a lot of system tools (parted, partimage, fstools, ...) and basic tools (editors, midnight commander, network tools). It is very easy to use: just boot the CDROM. The kernel supports most of the important file systems (ext2/ext3/ext4, reiserfs, reiser4, btrfs, xfs, jfs, vfat, ntfs, iso9660), as well as network filesystems (samba and nfs).
Get more information and your copy here.

5. TestDisk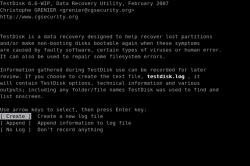 TestDisk is a powerful free data recovery software! It was primarily designed to help recover lost partitions and/or make non-booting disks bootable again when these symptoms are caused by faulty software, certain types of viruses or human error (such as accidentally deleting a Partition Table). Partition table recovery using TestDisk is really easy. TestDisk has features for both novices and experts. For those who know little or nothing about data recovery techniques, TestDisk can be used to collect detailed information about a non-booting drive which can then be sent to a tech for further analysis.
Get more information and your copy here.

6. Ranish Partition Manager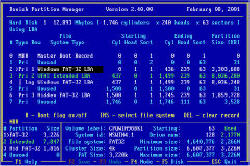 Ranish Partition Manager is a powerful hard disk partitioning tool. It gives users high level of control for running multiple operating systems, such as Linux, Windows 98/XP, FreeDOS, and FreeBSD on a single disk. Partition Manager can create, copy, and resize primary and extended partitions. It includes command line interface and simulation mode that works with large files so you can safely experiment before working on the real hard drive partition tables. It formats FAT-16 and FAT-32 partitions. It also allows you to copy partitions and clone disks and install multiple operating systems on the same hard disk.
Get more information and your copy here.

7. Partition Logic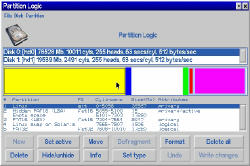 Partition Logic is a free hard disk partitioning and data management tool. It can create, delete, format, defragment, resize, and move partitions and modify their attributes. One cool feature about it is that it can copy entire hard disks from one to another. Partition Logic is free software, based on the Visopsys operating system. It boots from a CD or floppy disk and runs as a standalone system, independent of your regular operating system. It is intended to become a free alternative to such commercial programs.
Most important limitations of it: Cannot format partitions as NTFS (however, it can resize NTFS).
Get more information and your copy here.

8. SwissKnife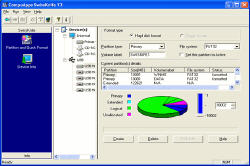 SwissKnife allows you to create, delete and format partitions on your hard disk drives in one smooth, simple process. While the product has been tested up to 400GB, it should support hard disks of up to 2048GB. SwissKnife allows creation of FAT32 & NTFS partitions. FAT16 option is provided for compatibility. Supports Internal interfaces such as IDE and SCSI and External interfaces such as Hi-Speed USB, Parallel port, PCMCIA, USB On-The-Go, Firewire, SATA interfaces etc. Creates Fixed and Removable Disk Format types. Latest version adds support for NTFS and features resizable windows.
Get more information and your copy here.

9. Cute Partition Manager (CPM)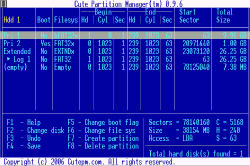 Cute Partition Manager is a free advanced hard disk partition management utility that allows you to easily add, edit, delete and manage the partitions in your computer. Cute Partition Manager is very easy to use, and one of the best features about it is that It lets you preview the changes before you save them. It lets you edit the boot flag, partition type and other advanced parameters. It gives you total control of your system during the partition process. For example, it lets you edit all existing partitions. It even lets you install all the operating systems from scratch. It supports all versions of Windows (9x,ME,NT,2K,XP,Vista), DOS, Linux, etc.
Get more information and your copy here.

10. eXtended FDisk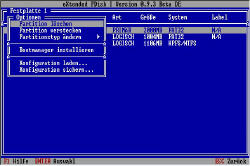 eXtended FDisk, or short XFDisk, is a free DOS FDISK replacement that offers more comfort and comes with a bootmanager that allows you to have more than one operating system installed on your hard disk. With XFDisk you can partition your hard disk or install and configure the bootmanager, which will be located in the first 17 sectors of your first hard disk. The bootmanager will not occupy an own partition, so you can fully use the four available primary partitions per hard disk. If you choose to have an extended partition with logical drives on your hard disk, XFDisk transparently manages the extended partition for you.
Get more information and your copy here.


Note: Please carefully read the software creators' read-me files and manuals, and always test before using any tool on a computer or hard disk that holds critical information. Remember as well that free products rarely, if ever, provide any kind of end user support other than forum or community support. If you're unsure of what you're doing, or need technical support, it's best to go with a paid product.





Related Article and Tutorials:

How to convert DBX files to CSV format?
How to convert IPD to XLS file?
How to convert AZW File to PDF, Doc, HTML, TXT, etc?
How to Convert a Document to Flash SWF File?
How to repair purple video?
How to fix blurred video?
How to convert between PAL and NTSC formats?
How to reduce the size of my video?
How to filter interlaced video?
How to remove mosaic from video?
How to remove pixellation from video?
How to enhance your video with EnhanceMovie?
How do I Recover deleted, missing or lost Logical Drives?
How do I recover files from formatted hard drives?
How do I recover fdisked drives?
How do I recover lost files from re-partitioned hard drive(s)?
How do I recover hard disks involving Scandisk and Chkdsk error?
How do I recover files from Raw Hard Drive?
Recover Encrypted file on NTFS Drive?
Recover Compressed files on NTFS Drive?
Recover files from dynamic-disk in Windows?