How to convert DBX to CSV format?


What is DBX files?

DBX files (files with *.dbx extension) are the files where Outlook Express stores email messages. They can be found in so-called Outlook Express Store Folder. When you open Store Folder in Windows Explorer, you will see a set of DBX files. Every file contains messages from the appropriate message folder in Outlook Express. For example, Inbox.dbx contains emails from Inbox folder and so on. Folders.dbx is an index of all Outlook Express message folders. It contains a structure of all news groups, mail folders and some synchronization data.


Common problems with DBX files

Maybe one of the most widespread problem occurs when moving Outlook Express messages to another identity, Outlook Express or another computer. When you copy DBX files from one Store Folder to another it is obligatory to copy Folders.dbx too. Otherwise, you won't be able to open message folders in Outlook Express.
A common problem is with an extremely large size of Inbox.dbx, Sent Items.dbx and Deleted Items.dbx. This may slow down Outlook Express or even cause some data loss problems. That is why it is better not to store all incoming mail only in Inbox folder, make backups and clean up your emails periodically.


What is CSV files?

A CSV file is a specially formatted plain text file which stores spreadsheet or basic database-style information in a very simple format, with one record on each line, and each field within that record separated by a comma. It's important that the individual "records" within a CSV file NOT contain commas, as this may break the simple formatting when using the file in another application.


Why do we need to convert DBX files to CSV format?

Sometimes happens DBX file may be damaged or corrupted. In that case, you may try to use some utility to extract your messages from it. If you are lucky one, you will get your emails back. But to avoid such problems in future it is better to backup your emails. So now converting DBX files to CSV format will become your number one priority. When your DBX file of Outlook Express databases has been damaged, you can get its CSV format.



Step-by-step guide to convert Outlook Express databases (DBX files) to CSV format with ABC Amber DBX Converter.

ABC Amber HLP Converter is a handy tool that allows you to create printable, manual-quality documents from Windows Help files. The program Easily Convert .HLP Help Files to CHM, PDF, HTML, RTF ,DOC, CHM, TXT, DBF, XML, CSV, XLS, MDB, etc. document (and database) file formats.

Step1: Download ABC Amber DBX Converter & Run It.


When you've finished installation, launch this program, you could see the GUI as follows: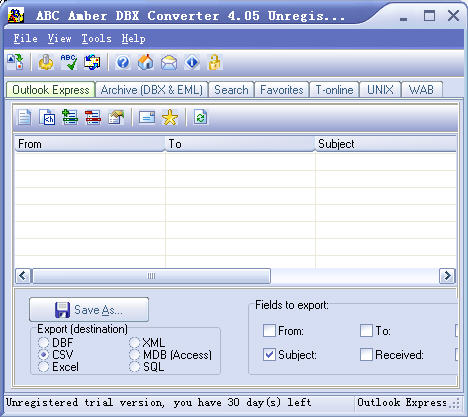 Step2: Open Outlook Express and select required messages.


Click the "Open"

button to select which file you want to convert as show below.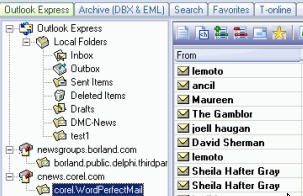 If you want to select all emails to convert you can select "Archive" tab, open dbx file and you will see all emails displayed in the list as follow.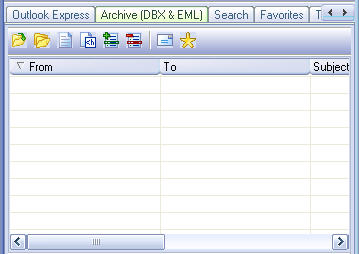 Step3: Select the CSV export format




Step4: At last, Click the "Save As" button:

Since the "Save As.."

button is also a "convert" button, when you have selected the destination folder, it will start to convert. And finally you will find this CSV format file has been saved in Microsoft Excel.

Now your work will become easier than before and work efficiency must be increased when using CSV format files. If you're interested in this DBX to CSV converter program, please visit: ABC Amber DBX Converter .



Related Article and Tutorials:

How to Convert HLP to CHM Help file for Vista
How to convert CHM to PDF file?
How to convert IPD to XLS file?
How to convert AZW File to PDF, Doc, HTML, TXT, etc?
How to Convert a Document to Flash SWF File?
How to repair purple video?
How to fix blurred video?
How to convert between PAL and NTSC formats?
How to reduce the size of my video?
How to filter interlaced video?
How to remove mosaic from video?
How to remove pixellation from video?
How to enhance your video with EnhanceMovie?
How do I Recover deleted, missing or lost Logical Drives?
How do I recover files from formatted hard drives?
How do I recover fdisked drives?
How do I recover lost files from re-partitioned hard drive(s)?
How do I recover hard disks involving Scandisk and Chkdsk error?
How do I recover files from Raw Hard Drive?
Recover Encrypted file on NTFS Drive?
Recover Compressed files on NTFS Drive?
Recover files from dynamic-disk in Windows?