How to convert CHM to PDF


What is CHM file?
CHM file is a file with .chm extension; CHM is basically a container for HTML files, CHM stands for Microsoft Compiled HTML Help. Such files are optimized for reading. This format was developed by Microsoft and released in 1997. First it was introduced with release of Windows 98. Now it is distributed and supported through Windows XP and Windows Vista. There are a lot of paid software tools which allow you to see CHM help files as HTML pages.

What is PDF file?
Short for Portable Document Format, a file format developed by Adobe Systems. PDF captures formatting information from a variety of desktop publishing applications, making it possible to send formatted documents and have them appear on the recipient's monitor or printer as they were intended. To view a file in PDF format, you need Adobe Reader, a free application distributed by Adobe Systems. The format is used widely to transfer documents containing formatted text (like bolds and underlines, as with word-processors) and pictures (photos, graphics, engineering diagrams).
The intention is to ensure that the document you send remains intact and cannot be tampered with. The Acrobat Reader is a viewer (unlike a word processor which can also edit) and all the font and picture information is embedded and compressed into the single format - a .PDF file.



Most software comes with help file at CHM format. If you want to print it or read it as normal pages, PDF shall be the most popular format.
If you want to convert .chm file to .pdf file you need to install a CHM to PDF Converter application.
ABC Amber CHM Converter is a powerful CHM to PDF converter which allows you to convert CHM to PDF, HTML or other document formats, etc.


Step-by-step guide to convert CHM to PDF with ABC Amber CHM Converter.

Step1: Download ABC Amber CHM Converter and Run It.

You could get the free trail version here. Double click the setup file to install it. There is No adware and spyware, so, you could install ABC Amber CHM Converter with no worry about losing your important data. When you've finished installation, launch this program, you could see the GUI as follows: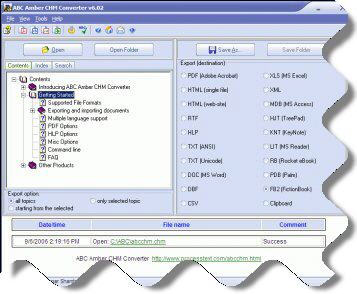 Step2: Add the CHM document.

Click the "Open"

button to add your pdf file or click the "Open Folder"

button to add your pdf files (Supports batch converting).

See your CHM file in the middle of the panel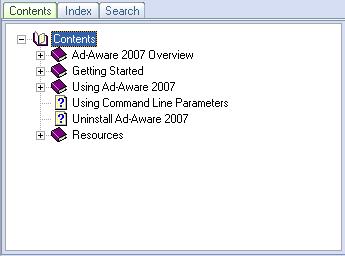 Step3: Select the PDF export format.

It shows the basic information about your chm file on the left and you can select the export format on the right. You even can just select the appointed page or select all pages.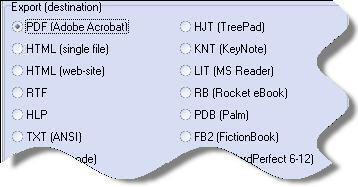 Step4: At last, Click the "Save As" button:

Since the "Save As.."

button is also a "convert" button, when you have selected the destination folder, it will start converting.





see the progress bar here, when it becomes 100%, the entire conversion progress will be finished.



OK. You are successfully complete converting CHM to PDF files.

If you're interested in this CHM converter program, please visit: ABC Amber CHM Converter




Related Article and Tutorials:

How to convert AZW File to PDF, Doc, HTML, TXT, etc?
How to Convert HLP to CHM Help file for Vista
How to convert IPD to XLS file?
How to Convert a Document to Flash SWF File?
How to repair purple video?
How to fix blurred video?
How to convert between PAL and NTSC formats?
How to reduce the size of my video?
How to filter interlaced video?
How to remove mosaic from video?
How to remove pixellation from video?
How to enhance your video with EnhanceMovie?
How do I Recover deleted, missing or lost Logical Drives?
How do I recover files from formatted hard drives?
How do I recover fdisked drives?
How do I recover lost files from re-partitioned hard drive(s)?
How do I recover hard disks involving Scandisk and Chkdsk error?
How do I recover files from Raw Hard Drive?
Recover Encrypted file on NTFS Drive?
Recover Compressed files on NTFS Drive?
Recover files from dynamic-disk in Windows?