How to Backup your iPhone Contacts to PC ?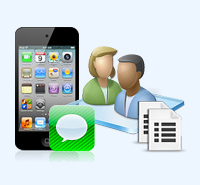 In recent years, the iPhone, with its excellent performance and iconic shape, had won over the hearts of many people. For a new iPhone owners, exporting their contacts can be a daunting task. However, if they don't want to lose the contact information of their customers, friends, or acquaintances, they will have to perform this necessary task. Sometimes, data is even more valuable than the phone itself. Previously, if we want to move contact information between phones, we will have to copy the informations to a SIM card, then copy the information from the SIM card to our new phone. However, unlike Android or Blackberry phones, the iPhone does not support exporting contacts to SIM card. Instead, you will need to copy the information to the phone's internal memory, then backup them up on a PC. This means that this already bothersome process will be even more troublesome. Well, is there a quicker and easier way to backup iPhone contact information?

As the saying goes: all roads lead to Rome. There are solutions, actually, there are a lot of different solutions too, in fact there are a lot of way to backup the iPhone's address book. However, if you want to backup iPhone's contacts to your computer, without the use of cloud based services or a similar Web-based solution. You will realize that there aren't many good solutions. This is why I want to introduce you to a third-party software that will help you easily backup iPhone contacts.

As a convenient and powerful iPhone backup software, Aiseesoft iPhone Transfer can transfer all the contact information from inside your phone to your computer. You can also save important SMS to your computer and at the same time deleting unneces sary SMS from the backup files.




Here are the few simple steps to backup your iPhone Contacts to PC :


The first step: Download "Aiseesoft iPhone Transfer" to your computer.



The second step: Connect your iPhone to your computer through the USB data cable and start the Aiseesoft iPhone Transfer.
The third step: To the left of the software's interface, you will see the "Backup" icon, if you need to back up your contacts, use the menu and chose "Contacts", if you want to back up SMS, choose "SMS".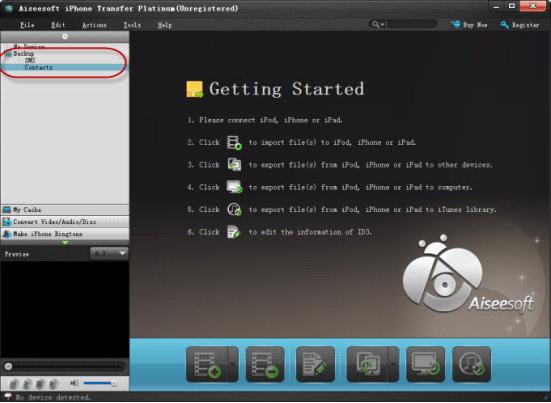 The fourth step: Since we want to back up contacts, we will choose the fourth option, choose the fifth icon from the bottom buttons; see the red square in the picture below.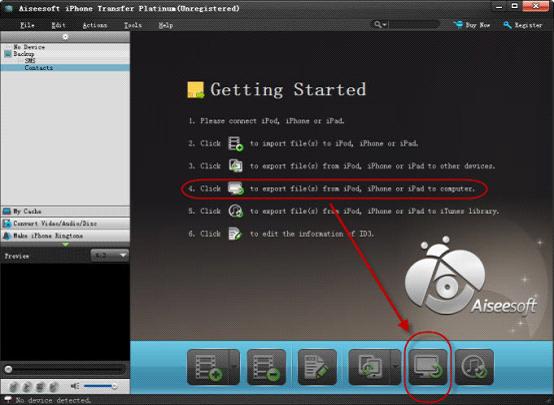 The fifth step: After that, a new dialog box will appear, choose "Add files" at the top, then choose the contact information you wish to back up. Backup will be completed in an instant. You are done! Lastly, we recommend that everyone develops good backup habits in their daily life. This will bring a lot of benefits to you as well as minimize accidental data loss.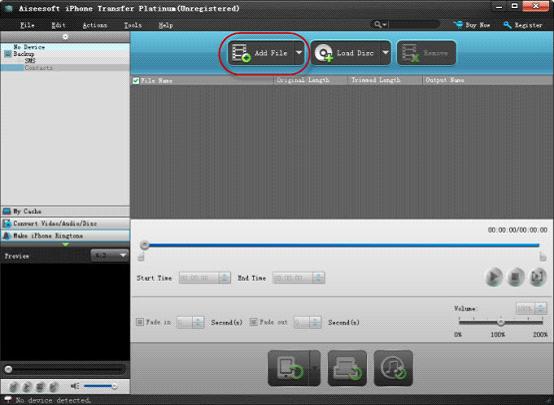 At last, In our daily lifes, It is a good habit to backup our files in time. The more, Please visit here !





Related Article and Tutorials:

How to Transfer Files from PC to iPhone?
How to Transfer Music/Video between iPhone 5 and Mac?
How to recover lost iPhone contacts, photos, and text messages?
How to convert DBX files to CSV format?
How to Convert HLP to CHM Help file for Vista
How to fix blurred video?
How to convert between PAL and NTSC formats?
How to reduce the size of my video?
How to filter interlaced video?
How to remove mosaic from video?
How to remove pixellation from video?
How do I Recover deleted, missing or lost Logical Drives?
How do I recover files from formatted hard drives?
How do I recover fdisked drives?
How do I recover lost files from re-partitioned hard drive(s)?
How do I recover hard disks involving Scandisk and Chkdsk error?
How do I recover files from Raw Hard Drive?
Recover Encrypted file on NTFS Drive?
Recover Compressed files on NTFS Drive?