How to Transfer Music/Video between iPhone 5 and Mac ?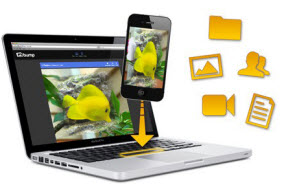 As everyone knows, the iOS operating system from Mac is a closed platform. It has its advantages, such as high stability, optimized system, smooth operation and high safety factor. However, every coin has two sides; the main disadvantages of iOS are the poor multitasking process and inconvenient data transfer system.
Generally, in order to obtain a higher user access level and use more apps, many people would choose to Jailbreak their iPhones. By doing so, the device is freed from the limitations that are imposed by Mac and the user can install anything they like such as input methods, games and utilities tools etc. In this case, data synchronization and replication would be involved.
Besides, if you get some great music, videos, images and you want to transfer these music/video to your iPhone or other iOS devices, this involves issue of data transmission.
Moreover, if you are a big fan of Apple and own a lot of iOS devices, you may notice that it is not an easy task to share these data within the devices. Users are unable to use Bluetooth for data transfer and there are no suitable file management tools. As a result, users can only transmit these data between two devices in a very complicated way. But don't you think it is nonsense to have such a complex setup just to share data between two devices that are close together? So is there an easy and fast way to transfer files between iPhone and Mac or other iOS devices?
If you encounter a similar problem, Aiseesoft iPhone Transfer for Mac would be your best solution. It is a data-transmission software targeting Mac iOS users. By using it, you can easily transmit images, music and videos to your iPhone (e.g. iPhone 5, iPhone 4S, iPhone 4). It is by mutual transfer and at the same time, you can share your data to other iOS devices directly.
Next, I will give you a step-by-step tutorial on how to transfer the music or videos from your iPhone to your Apple computer.
First, You need to download Aiseesoft iPhone Transfer for Mac to your Mac and open it after installation. Please be reminded that you need to install iTunes on your Mac and have to close it when running this software.

Second, Connect your iPhone to your Mac. At the left of the software interface, select the file type you want to transfer and the corresponding files will appear on the right. Music is selected here.
Third, Select the music you want to transfer from your iPhone to your Mac. If you want to select more than one file, right click any blank area of the content panel, click "Uncheck All" and select your target files. The transmission takes no time. For other file types, the operation is the same.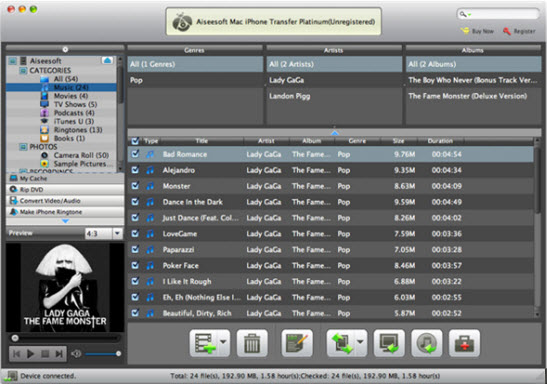 If you want to transfer any music/video from your iPhone to other iOS devices(iPad, iPod etc.), select the corresponding button and follow the above tutorial.
Finally, If you are a Mac user, Aiseesoft iPhone Transfer for Mac will give you an easy and great experience for data transfer. Don't hesitate to take a free trial!
Related Article and Tutorials:
How to Transfer Files from PC to iPhone?
How to Backup your iPhone Contacts to PC?
How to convert DBX files to CSV format?
How to Convert HLP to CHM Help file for Vista?
How to fix blurred video?
How to convert between PAL and NTSC formats?
How to reduce the size of my video?
How to filter interlaced video?
How to remove pixellation from video?
How do I Recover deleted, missing or lost Logical Drives?
How do I recover files from formatted hard drives?
How do I recover fdisked drives?
How do I recover lost files from re-partitioned hard drive(s)?
How do I recover hard disks involving Scandisk and Chkdsk error?
How do I recover files from Raw Hard Drive?
Recover Encrypted file on NTFS Drive?
Recover Compressed files on NTFS Drive?