How to Make your Own iPhone Ringtone from Audio and Video ?
iPhone is a smart phone which made up of a camera, a personal digital assistant, a media player, as well as a mobile phone. Because of its high quality, sharp screen, fast system speed, and good safety record, iPhone is already a very popular digital product with users from around the world.
As we all know, the iPhone use a different ringtone format than most other phones, it only supports the m4r format. Currently, the iPhone's operating system have the following 25 ringtones in the m4r format: Alarm, Ascending, Bark, Bell Tower, Blues, Boing, Crickets, Digital, Doorbell, Duck, Harp, Marimba, Motorcycle, Old Car Horn, Old Phone, Piano Riff, Pinball, Robot, Sci-Fi, Sonar, Strum, Temba, Time Passing, Trill, and Xylophone. The iPhone does not support the direct conversion from MP3 to ringtone, therefore most people have to use these default options. However, what will you do if you want to set your favorite song as ringtone? What if you downloaded a video and you loved the music on it. Is there a way to extract these sounds and set them as your ringtone?
Enough talking, so how do we set about making iPhone ringtones? What are the methods of making a iPhone ringtone? Actually iPhone does allows users to set their own ringtones, but this process is rather troublesome. Here we share with everyone a faster and easier method of setting a personal ringtone.
First we need a professional IPhone ringtone making tool, here, we recommend that you use the 4Media iPhone Ringtone Maker. It is a full-featured, easy to use, targeted iPhone ringtone maker software. Using it, you can make your own personalized ring tones from your favorite audio or video, without any quantitative restrictions, you also do not have to spend money to buy ringtone either. It support many formats including: WMA, WAV, RA, M4A, MP3, AVI, MPEG, WMV, DivX, MP4, H.264/AVC, AVCHD, MKV and so on. You can even transfer the files you converted directly to your iPhone without going through iTunes. This software is very simple and convenient to use.
Here are the few simple steps to make your own iPhone ringtone :

The first step: Download "4Media iPhone Ringtone Maker" to your computer, then install it.



The second step: Select your favorite music or video and enter it into the software.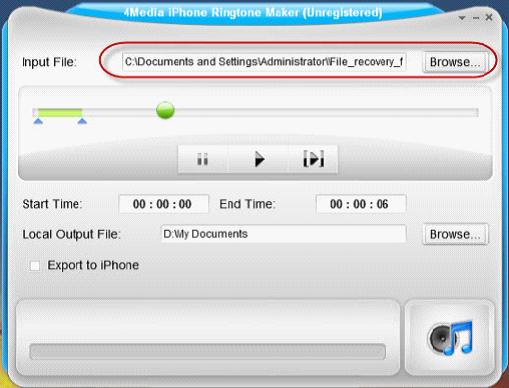 The third step: Listen to it and select where you want the ringtone to start or stop.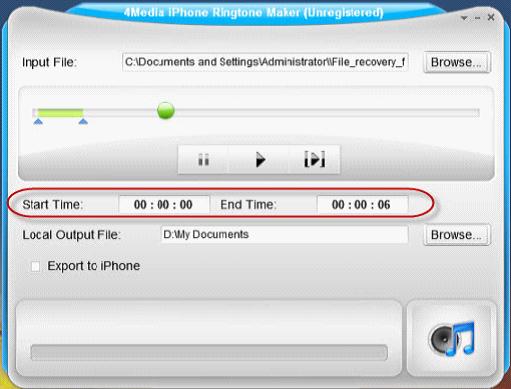 The fourth step: Select where you want the ringtone saved.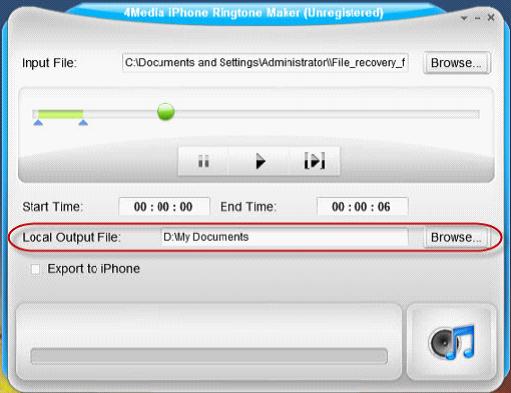 The fifth step: In you want to sent the ringtone directly to your iPhone, check the "Export to iPhone" option and connect your iPhone to your computer. Now you can use this software to make as many ringtone as you want, go do it!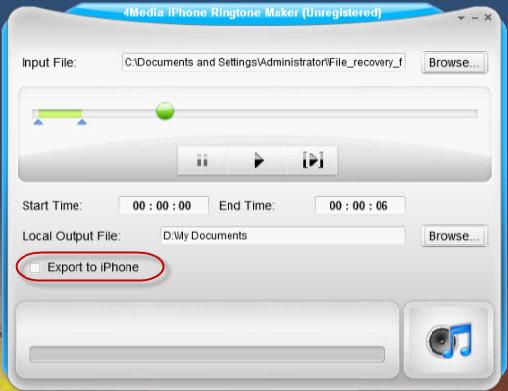 At last, Because of Apple's restrictions, a ringtone must be less than 40 seconds long and must be in m4r format.
Related Article and Tutorials:
How to Backup your iPhone Contacts to PC?
How to Transfer Files from PC to iPhone?
How to Transfer Music/Video between iPhone 5 and Mac?
How to Transfer Files from PC to iPhone?
How to convert DBX files to CSV format?
How to Convert HLP to CHM Help file for Vista
How to fix blurred video?
How to convert between PAL and NTSC formats?
How to reduce the size of my video?
How to filter interlaced video?
How to remove mosaic from video?
How to remove pixellation from video?
How do I Recover deleted, missing or lost Logical Drives?
How do I recover files from formatted hard drives?
How do I recover fdisked drives?
How do I recover lost files from re-partitioned hard drive(s)?
How do I recover hard disks involving Scandisk and Chkdsk error?
Recover files from dynamic-disk in Windows?