How to convert DBK to XLS (Sony Ericsson .DBK backup files to Excel )?


What is .DBK File ?


Mobile phone backup file created by Sony Ericsson PC Suite, a program used to manage Sony Ericsson mobile phones; stores phone information, such as contacts, in a compressed format.

Files with the extension of .DBK (Database Backup File) are specific to Sony Ericsson phones. These applications serve many purposes (such as synchronization of data to a computer) but are most commonly used for creating backups of a device's data placing it within a single compressed backup container file on the user's computer. DBK files may be decompressed using a file decompression tool, such as Corel WinZip.



What is .XLS File?


A file with extension xls is Microsoft Excel spreadsheet document. In addition to storing spreadsheet data, the Microsoft Excel file format is designed to store information regarding various formatting data pertaining to its representation. The Excel file format accommodates the embedding of Graphic Objects in spreadsheets. The Objects types supported are pictures, lines, buttons and so on.



How to backup your Sony Ericsson phone ?


At first. The latest version of "Sony Ericsson PC Suite" should be needed before you creating a backup of the device's data. You can download the latest version free from the Sony Mobile official website. After installation, the Connection Wizard can be used in order to safely connect the device to the computer.

When the phone has been connected, It can backing up any personal data (Address book, Photos, Calendar etc), It is started by simply choosing a destination folder for the backup file and clicking the backup button from the menu. A .DBK file will then be created containing all databases selected.



A Step-by-Step Guide show you how to convert DBK files to XLS ?

Let's check how to convert DBK files to XLS with PhoneMiner. It can not only support Sony Ericsson (.DBK files) but also support Apple iPhone & iPad and BlackBerry (.BBB and .IPD files). To help, We strongly recommend you run PhoneMiner Plus to convert DBK files to XlS.



Step 1: Download PhoneMiner Plus & Run It.

When you've finished installation, run it and you'll get the interface as follow: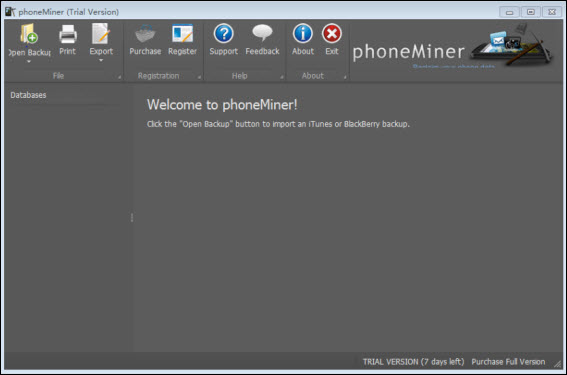 Step 2: Click "Open Backup" button, In the new interface below, select the files which you need to convert .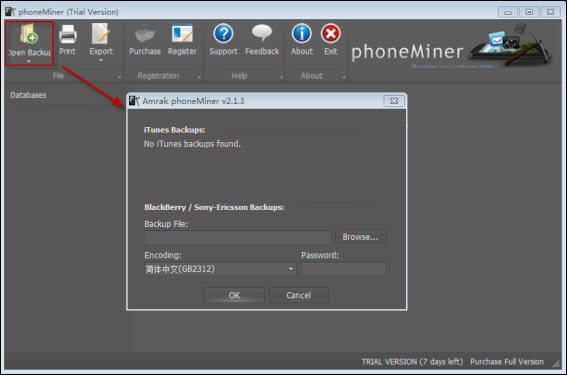 Step 3: You're at the last step now, Select the "Export" button, choose the "XLS" format, then it will convert DBK files to XLS .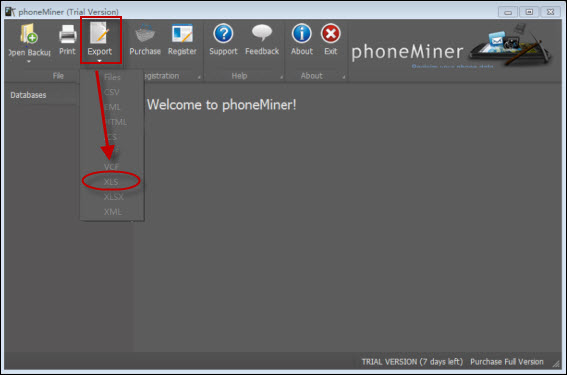 PhoneMiner also allows you to convert and export your Sony Ericsson data to a range of popular file formats, such as: Excel (XLSX); CSV; HTML; Email (EML); PDF; XML; vCard (VCF); ICS. allowing you to import your information to other applications. This is a very important and useful software, try it right now !
Related Tutorials:

How to convert IPD to XLS (BlackBerry Backup File to Excel file) ?
How to extract contacts from iPhone backup ?
Related Article and Tutorials:
How to convert AZW File to PDF, Doc, HTML, TXT, etc?
How to Convert a Document to Flash SWF File?
How to convert DBX files to CSV format?
How to Convert HLP to CHM Help file for Vista
How to fix blurred video?
How to convert between PAL and NTSC formats?
How to reduce the size of my video?
How to filter interlaced video?
How to remove mosaic from video?
How to remove pixellation from video?
How to enhance your video with EnhanceMovie?
How do I Recover deleted, missing or lost Logical Drives?
How do I recover files from formatted hard drives?
How do I recover fdisked drives?
How do I recover lost files from re-partitioned hard drive(s)?
How do I recover hard disks involving Scandisk and Chkdsk error?
How do I recover files from Raw Hard Drive?
Recover Encrypted file on NTFS Drive?
Recover Compressed files on NTFS Drive?
Recover files from dynamic-disk in Windows?