How to Recover Photos and Files from USB Flash Drive on Mac
Before performing a restore, first let's look at what is a USB Flash Drive ?
The U disk is also known as the USB Flash Drive. It is a miniature, high-capacity mobile storage product which used a USB interface to connect to the computer, just plug and play. Because it is small and easy to carry, comes with large storage capacity, cheap, and reliable, it has been welcomed by the people. People usually like to use it for storing movies, photos, documents, and many other types of files.
However, in our daily life use, you will encounter some unforeseen circumstances which may lead to data loss on the U disk. For example, you may have forgotten to unplug the USB Flash Drive when shutting down and cause data loss; you may have also mistakenly deleted files or formatted your USB Flash Drive, and your files cannot be found in either the recycle bin nor trash can; or maybe the USB Flash Drive is suffering from a virus or malware attack resulting file been hidden or deleted and so on. Although the price of the U disk is now very low, the data inside of it is often precious.
No matter what the reason is for data loss, or even if your U disk is physically damaged, lost files can be retrieved by using a third-party software as long as you are using it correctly. Here, we recommend using a professional USB data recovery tool - 321Soft USB Drive Recovery . It is one of the most direct and effective recovery tool out there. It is a very good software, recovery is fast, it is also very easy to use, most importantly it can help you safely restore files lost due to deletion, formatting, virus infection and other reasons from your USB Flash Drive.
Common USB Flash Drive Data Loss Causes and Symptoms:
Accidentally formatting USB drive while files inside are not backed up.
Accidentally deleting files from USB Flash Drive
USB driver suffered virus attack
Incorrect removal of the USB Flash Drive from a computer
USB flash drive file system is displayed as RAW
Windows ask if you want to format a USB Flash Drive
And many other.
Remember: before recovery, you need to remember the following :

(1) In order to be able to improve the possibility of data recovery, do not store new data or perform other operations on the USB Flash Drive where the data loss occurred. This is to prevent new data from overwriting old data. Immediately stop using the U disk.

(2) Before data on a USB drive have been retrieved, do not use just any software to repair the U disk.
Preparation:

First download and install 321Soft USB Drive Recovery for Mac software, the latest version can run on any Mac OS X, including 10.8. After it was installed, connect the USB Flash Drive to your computer, and then start the program. The interface will help you through the steps in the recovery process.


Download it Here !
The following is a list of the specific steps to restore deleted or lost files from USB Flash Drive using the aforementioned recovery software on a Mac: (If you use the Windows version, please look at USB Flash Drive Recovery for Windows, both versions have identical procedures)
Step 1: Select the type of file you want to restore: There are four types to choose from: images, video, music, and other. You can choose one or more of them. You can also choose the "other" as the file type which has a larger search range.
At the bottom of the window, you also need to choose the brand of the USB drive, the software has a lot of mainstream brands built-in, such as: SanDisk, Nikon, Sony, etc...
In case you cannot find the brand of the device or you do not know, you can choose "All Devices and file types".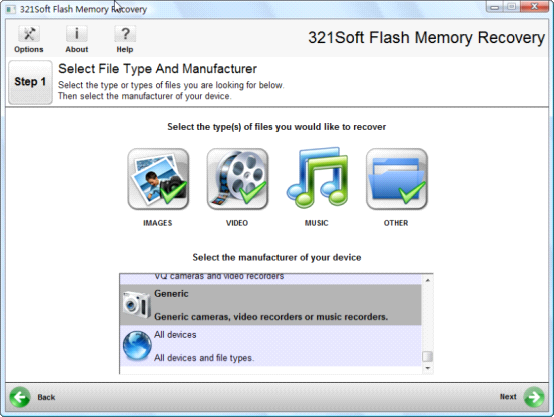 Step 2: Choose the device from which the software will recover files from: 321Soft Flash Recovery will show you all the physical and logical devices collected to your computer. Sometimes a USB device will be damaged and will not be displayed as a logical device, then you will need to select the physical disk in order to restore. Reminder: In this step, you can also save your USB as an image file by clicking on the "Save Media Image File" button. This feature is especially useful if your USB drive is damaged.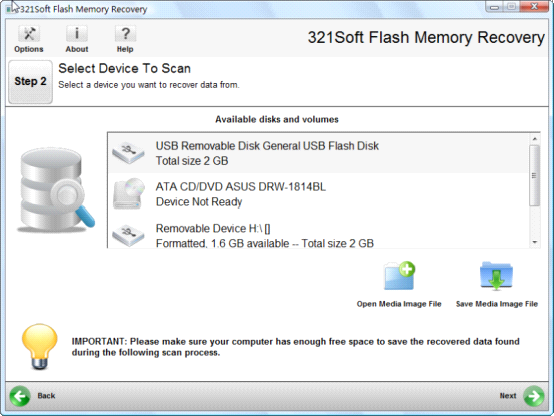 Step 3: Check if your previous selections are correct. If they are, click Next to begin scanning.
Tip: In this step, you can also change where the recovered data are saved. While scanning, the data will automatically be saved in the specified location. Warning: Do not save the recovered data to the USB drive you are recovering, you should choose a separate disk. Saving to your computer's hard drive is safe. Do so to ensure that deleted files are not overwritten.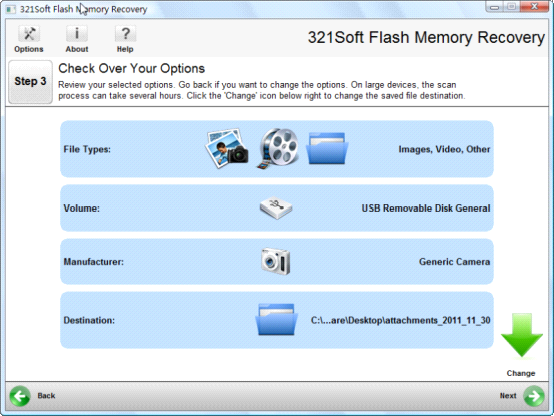 Step 4: The program will complete a scan of the USB device of your choice, based on the amount of data in the USB device and your computer performance, the scan may take some time.
Generally the scan will be completed in several minutes, however it may take up to 2 hours. Please be patient. In the scanning process, previews of image files will scroll by the top of the window. Other file types will only display an icon. If you want to stop, pause, or resume the scan, you can use the control buttons at the bottom right of the window. If you stop scanning, you will not be able to re-start it, you will have to start from the beginning again. Tip: If you've found the file you want, you can stop the scan and go directly to the next step.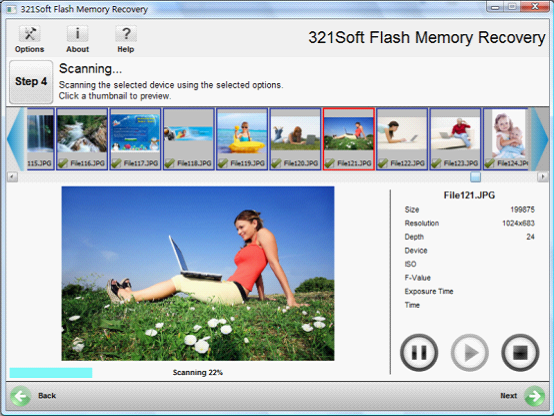 Step 5: Save the file recovered: when the scan is complete, the data found will be automatically saved in the pre-selected target file folder. During the saving process, you should be able to see the progress of the this operation. If necessary, you can also stop the save. Once this operation is stopped, you cannot restart it, you will have to start from the beginning again.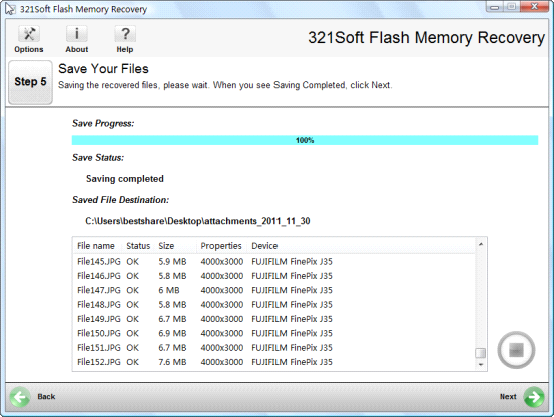 Step 6: Finally, Completion of the USB File Recovery: When the save is complete, the program will provide three options:
Open the destination folder
Start a new scan and 3.burn CD / DVD.
If you choose the first option, you can view recovered files.
You're done!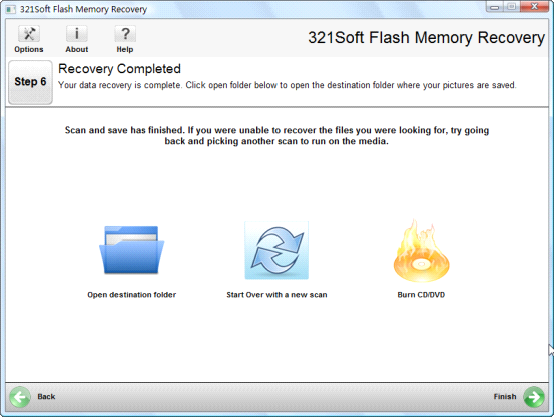 Note: The demo version can only scan your USB devices and preview recoverable files but will not recover them. The registered version allows you to save the recovered data, Buy it Now !
Related Article and Tutorials:
How to Recover Files and Photos from Micro SD Card ?
How to convert DBX files to CSV format?
How to Convert HLP to CHM Help file for Vista
How to fix blurred video?
How to convert between PAL and NTSC formats?
How to reduce the size of my video?
How to filter interlaced video?
How to remove mosaic from video?
How to remove pixellation from video?
How do I Recover deleted, missing or lost Logical Drives?
How do I recover files from formatted hard drives?
How do I recover fdisked drives?
How do I recover lost files from re-partitioned hard drive(s)?
How do I recover hard disks involving Scandisk and Chkdsk error?
How do I recover files from Raw Hard Drive?
Recover Encrypted file on NTFS Drive?
Recover Compressed files on NTFS Drive?
Recover files from dynamic-disk in Windows?