How to Recover Photos from Micro SD Card ?
With the advent of smart phones and tablet PCs, fast and reliable mobile data storage is becoming more and more important. Today people are using an ultra-small memory card - the Micro SD. It is a new generation of semiconductor based flash memory storage device, it is also a type of SD Card. it is widely used in small portable devices such as digital cameras, mobile phones and multimedia players. It is listed as the world's smallest memory card along with MMC Micro. On the technical side, there are no differences between it and a normal SD card. In the market there are many brands of Micro SD Cards available such as: SanDisk, Kingmax, Panasonic and Kingston.
Micro SD Card has a fast data transfer speed, excellent storage capacity and unmatched reliability. Whether you are a Tablet PC enthusiast or a Smartphone user, using the Micro SD Card can bring your mobile media experience to a new, higher level. You can enjoy faster speed from your application performance, more responsive camera function, and also smoother media playback. Consumers will be surprised to find that although it is a fingernail-sized, it has many advantages over the ordinary SD card. It has a larger capacity, higher-performance, greater safety, and it even have a higher read and write speed than MMC cards(up to more than four times faster). It can also be used with all kinds of digital products without wasting valuable space. Right now, it has become one of the most widely used type of memory device in consumer electronics.
Micro SD Cards are compact and easy to carry, a lot of people will use it. However a Micro SD Card is susceptible damage due to viruses or improper operations, resulting in data losses. For example, mobile phone users often encounter some problems when trying to increase their storage with a Micro SD Card, sometimes even after the card is reinserted several times, the phone still will not read it correctly; or maybe photos stored inside the camera cannot be opened and the card itself cannot be formatted. These could mean that the card may have been infected, these symptoms can also be indicative of physical damage to the memory chip. Although Micro SD Cards is cheap, but the data inside of it may be priceless. Therefore, if we know how to perform a Micro SD Card file recovery, we will not panic when we are facing a real data crisis.
The following instructions describes a professional SD Card data recovery software, the AppleXsoft SD Card Recovery, it can recover photos from Micro SD Card as well as other types of files. This software has the advantage of both great security and high scanning accuracy. This software supports all types of SD cards, SDHC, Micro SDHC, Mini SD, Mini SDHC, SDXC, Micro SDXC, SDIO, Smart SD, etc...
It can recover the lost data under the following circumstances :
Accidental deletion of photos from Micro SD card
Accidental formatting of the Micro SD card
Micro SD card is physically damaged or inaccessible
Infected file cannot be opened
Loss of data caused by power failure
Other unknown reasons which caused data loss
Here it should be noted that :

(1) Before recovery, make sure that you do not perform any read and write operations to the damaged Micro SD card to prevent recovered files from overwriting damaged ones.

(2) Make sure that your computer have enough power to prevent a sudden power loss during process of recovery.
A few simple steps to recover photos from a Micro SD Card:

Step 1: Download this software, AppleXsoft SD Card Recovery, and install it on your computer. After that, plug your Micro SD card into your computer through a card reader. (Some new computers may have a built-in card reader).


Download it Now !


If you do not use a card reader, but are recovering directly from a digital camera, make sure your digital camera link can be displayed as a removable disk device. We recommend that you use a card reader.



Step 2: Start the software, then select the drive from which you need to restore data from. If it is connected directly through a camera or cell phone, then directly select the appropriate drive number of the device.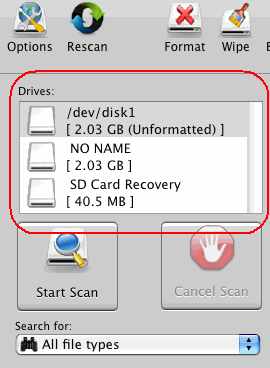 Step 3: In the list below, select the type of file you need to recover or select the brand of camera you are using.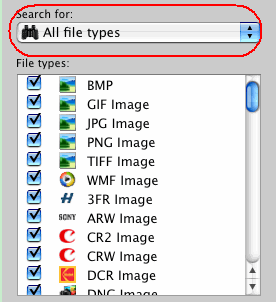 Step 4: Click the "Options" button and select the where you want the recovered files to be saved, pay attention, do not save the recovered photos to the Micro SD drive you going to recover, you should choose a separate disk. This is to ensure that the inside files will not be damaged or overwritten.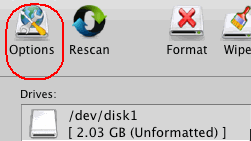 Step 5: Click "Start Scan" button. Recovered photos will appear one by one in a list, you can also click on them to preview their contents. If you want to stop scanning, you can click the "cancel scan" button on the left, this process cannot be restarted and you will have to scan from scratch again. The scanned photos will be automatically saved in the predefined target folder.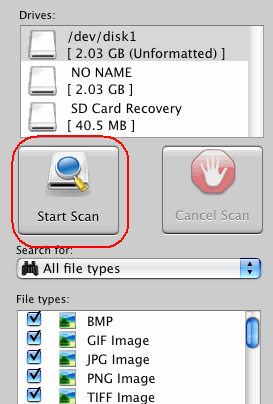 Step 6: After the scan, a message box will pop up. This marks the end of the recovery process.

Note: The demo version will only scan your Micro SD device, and preview the file can be restored. Please purchase the registered version which allows you to save the recoverable data.
Related Article and Tutorials:
How to convert DBX files to CSV format?
How to Convert HLP to CHM Help file for Vista
How to fix blurred video?
How to convert between PAL and NTSC formats?
How to reduce the size of my video?
How to filter interlaced video?
How to remove mosaic from video?
How to remove pixellation from video?
How do I Recover deleted, missing or lost Logical Drives?
How do I recover files from formatted hard drives?
How do I recover fdisked drives?
How do I recover lost files from re-partitioned hard drive(s)?
How do I recover hard disks involving Scandisk and Chkdsk error?
How do I recover files from Raw Hard Drive?
Recover Encrypted file on NTFS Drive?
Recover Compressed files on NTFS Drive?
Recover files from dynamic-disk in Windows?