How to Recover Files from Hard Drive on Mac
In this day and age, computers are used in our work, life, learning, and every other every corner. For people, companies, enterprises, and state organs, computers have become an essential office equipment. Our personal files, documents, photos, e-mails, the company's financial records, sales contracts, and even national military secrets and so on are all stored in a computer. In our daily usage, we will inevitably encounter some problems on our computer. These problems included: system crashes, Accidentally deleted files, bad hard drive, computer viruses, computer upgrades and etc. However, we often forget to backup important files due to carelessness. Accidentally formatting the hard drive and causing data losses is also a very unfortunate yet frequent phenomena. Hard drive contains valuable and priceless data, and more and more users now beginning understand such a concept, but only when someone encountered a real life data crisis, will they truly understands how it feels. Well, when we encounter these problems, what will we do in order to restore the lost files from hard drive?
Do not worry, we now have this software: AppleXsoft File Recovery for Mac . It is often used in Apple Computers as a professional and powerful DIY hard disk data recovery tool. It can help you to restore deleted files from formatted drives, lost partition, new partition or formatted partitions, solving all data loss problems. Supports Mac hard drive and most external storage devices. It also came with very friendly, step by step wizard user interface.
Note: Please do not write new files in a disk or partition with missing data, doing so may render the data forever unrecoverable.
Here is a simple guide to teach you how to recover files from Mac Hard Drive:
Step 1: First, install this software and start it. If you need to recover from external hard drive, so please connect your external hard drive to your Mac.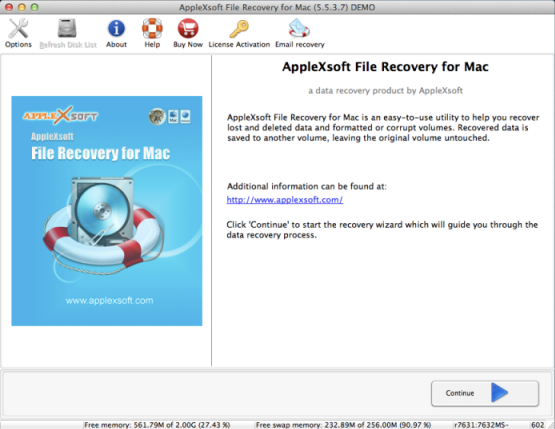 Step 2: Then select the type of media you need to restore files, you can choose from: Hard Drive, Memory Device, Optical Media, Multimedia / Mobile Device, RAID System. These are the top five media storage devices. If you want to restore files from your hard drive, as long as you choose the first option.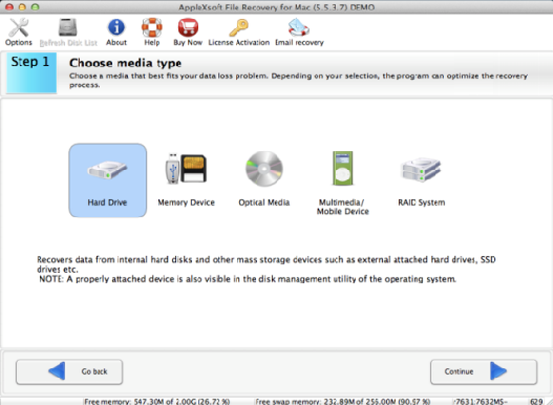 Step 3: When you have made the appropriate choice select the disk or volume where you've lost your files. and then click the "Next" button.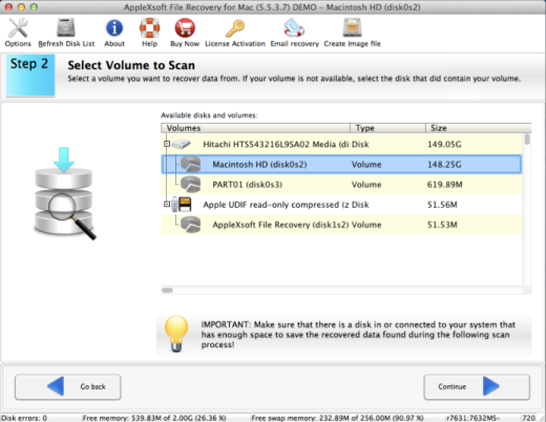 Step 4: Then, in the following window, choose the most suitable recovery method for you, carefully follow the prompt to start the scan.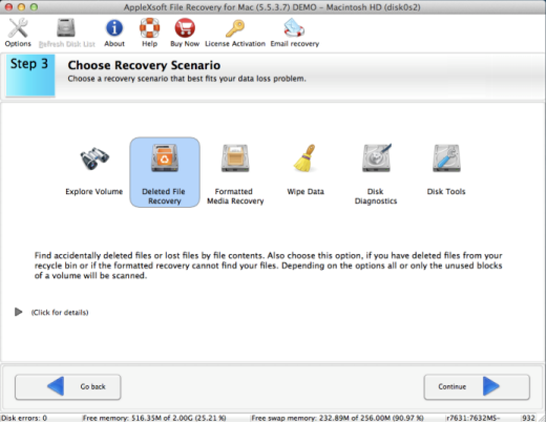 Step 5: Finally, you can restore scanned files and save them to a new location. (Note: not to the hard drive where you lost files, another drive or external storage media are highly recommended.)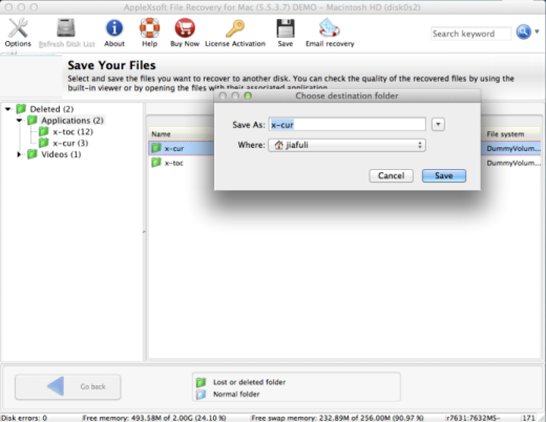 Related Article and Tutorials:
How to Recover Photos from Micro SD Card ?
How to convert DBX files to CSV format?
How to Convert HLP to CHM Help file for Vista ?
How to fix blurred video?
How to convert between PAL and NTSC formats?
How to reduce the size of my video?
How to filter interlaced video?
How to remove mosaic from video?
How to remove pixellation from video?
How do I Recover deleted, missing or lost Logical Drives?
How do I recover files from formatted hard drives?
How do I recover fdisked drives?
How do I recover lost files from re-partitioned hard drive(s)?
How do I recover hard disks involving Scandisk and Chkdsk error?
How do I recover files from Raw Hard Drive?
Recover Encrypted file on NTFS Drive?
Recover Compressed files on NTFS Drive?
Recover files from dynamic-disk in Windows?