How to Convert Word to 3D Flipping Magazines?
Word files were widely used in our daily life. However, Do you think that the digital document is more convenience? So files and documents are need to convert into various format for giving them a new look. There are several software and tools are available on internet that will definitely help you to cope with any issue related to document conversion. They allow you to convert your desired content into an amazing way in less time. If you are looking for software for converting a Word document in to 3D flipping Magazine then we will recommend you software, named 3DPageFlip for Word.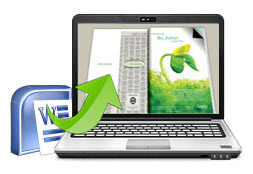 It's available on internet and is being use by many people widely. It is a converter that will convert Microsoft Word XP of all versions 2002, 2003, 2007 & 2010 documents into a highly compressed Adobe Flash™ format (swf). SWF is an acronym of "Shockwave Flash" and it is a proprietary file format for multimedia and especially vector graphics for making 3D pages.
3DPageFlip for Word is designed for 3D interactive online digital magazine publication. 3D Page Flip for Word can work as your virtual assistant for converting automatically magazine in word document into flipping magazine for giving it a look of e-magazine. Converter allows you to share converted output of magazine in Flash format with the world wide audience. Yes, you can share it on any webpage of your website or any other website. You can distribute it by making its CD as well through 3D Page Flip for Word. \once you have converted your word document into 3d flipping magazine then you will be able to convert it in an e-book. Because converter allows its users to make e-book as Adobe Flash based 3D Flipping Book. You can do this conversion, again, within seconds. These are some feature that makes 3D Page Flip for Word converter different and useful.
Here I would introduce how to convert word to 3D flipping magazines.
Step 1: Install 3DPageFlip for Word on your computer and then launch it.

Download it Here !
Step 2: Import your word file from your computer through "Import PDF".


Step 3: Choose word document from computer and define the import page.


Step 4: Design tool bar color, button, background music and more for the 3D eBook.


Step 5: It's OK and Publish the 3D page flip book.


You don't need to worry about text, document, graphics used in word document. They will remain preserved during and after conversion. With 3D Page Flip for Word, You can share it with you friends and family circle virtually. They don't need to install any software to view your converted 3D flipping magazine or e-book. They will feel like they are holding book or magazine by their hands. That feel will appear by rolling option through which book can be rolled in Three Dimensions.

Related Article and Guides:
How to convert Mod/Tod video to AVI?
How to convert FLV to iPhone?
How to download and convert YouTube videos to 3GP?
How to convert YouTube videos to MP4?
How to Convert M4V to AVI on Mac?
How to rip DVD to WMV on Mac for your iRiver player?
How to remove DRM from iTunes 9 on Mac?
How to convert AAC to MP3 on Mac OS X?
How to convert 3GP to AVI ?
How to convert RMVB to AVI on Mac?
How to remove region code from protected DVD?
How to convert YouTube to iPhone?
How to put video on iPod
How to rip DVD to iPod
How to convert MXF to MOV, QT on Mac?