How to Convert PDF Files to Flash Flipbooks?
With the development in technology, the books and other study materials became electronic and were displayed on the screen with higher quality than original books. The electronic books are in the format of pdf. These are easily available on internet and can be downloaded and read on the screen in the pdf reader environment. The pdf file format was a revolution earlier and it reduced cost of paper. To add interesting and interactive features to this file format they can be converted to flip books. The pdf files can be converted by using Flip pdf professional. These days with the revolution of touch devices everyone desire to have things like they are in actual form.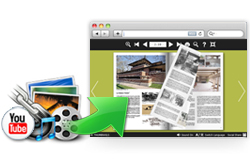 Functionalities like flipping pages, sound effects, image displays, booklet like display, touch responds, bookmarks, picture backgrounds, themes, animations, flash contents, command line versions, Mobile and other screen size adjustable, add watermarks and many more.
Besides this there are many other awesome features in the Flip PDF Professional like we can edit imported PDF pages with embedding native Flash or YouTube Video, adding web links, page links and even email links, inserting background music, image album, Javascript actions and so on. It is also very easy to use with the simple user interface and no limitation on the number of page-flipping eBooks you will create, no limitation on how many websites you will publish your created eBooks! Just Enjoy It!
Here is a step-by-step guide to teach you how to convert PDF files to flash flipbooks:
Step 1: Install the software on your Mac and then launch this application.

Download it Here !

Step 2: Import PDF which you need to convert, and then click the "Edit Pages" buttion and edit it. On the left side, you can set your output settings.

Step 3: When you finish DIY work, please click "Publish" button to start converting PDF to flash flip book. You will get a realistic flipping effect book in seconds.

You can refer to the images below.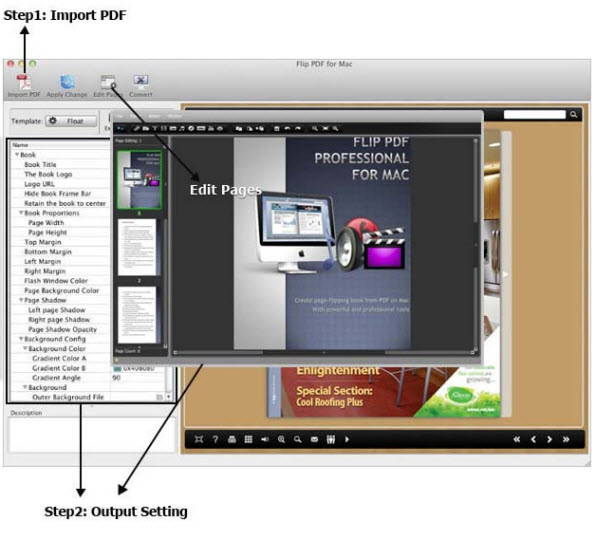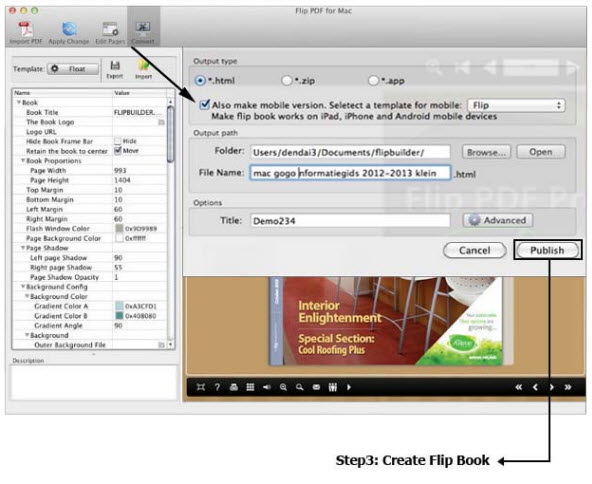 Now, It's ok and Just so easy to understand. By on, There are some unique settings for the template configurations. Basically there are three options in Flip PDF Professional these are Classical, Float and spread. All these are to make the pdf file more attractive. The title, margins, logos, book proportions, frame bars, flash window colors, background colors, shadows, alignments, hard covers, flipping times, sound effects and tool bar settings are done on this wizard. After configuring the template settings you will be introduced to an attractive reading experience. Free to Try it right now or you can Buy it Online !

Related Article and Guides:
How to convert Mod/Tod video to AVI?
How to convert FLV to iPhone?
How to download and convert YouTube videos to 3GP?
How to convert YouTube videos to MP4?
How to Convert M4V to AVI on Mac?
How to rip DVD to WMV on Mac for your iRiver player?
How to remove DRM from iTunes 9 on Mac?
How to convert AAC to MP3 on Mac OS X?
How to convert 3GP to AVI ?
How to convert RMVB to AVI on Mac?
How to remove region code from protected DVD?
How to convert YouTube to iPhone?
How to put video on iPod
How to rip DVD to iPod
How to convert MXF to MOV, QT on Mac?