How to convert DTS to AC3?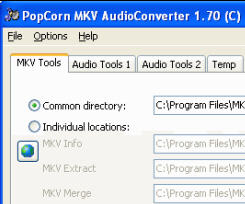 PopCorn MKV AudioConverter is a Freeware DTS to AC3 converter. It can also remove DTS tracks and convert OGG audio to AC3, MP3, AAC, MP3.
It is a Windows 1-click utility that easily converts audio, for instance DTS audio tracks to AC3 (Dolby Digital) in MKV container files. This is useful for Popcorn Hour A-100 or other NMT users who's device does not support DTS downmixing and who do not have the possibility to use a normal reciever/amplifier with DTS support. AudioConverter leaves the rest of the encodings untouched, not quality degrading on video!

Download Trial 956 KB Version 1.80




Step 1. Set up how you want to convert DTS files
First of all, you need to decide what to do with DTS tracks. And you should choose to convert DTS to AC3 (Dolby Digital) tracks.

If you choose to convert the DTS track to AC3, you need to decide what bitrate you want the new Dolby Digital track to be encoded at. The higher the value, the better the quality, but also the bigger the file. DTS tracks are normally encoded at either 768 kbit or 1536 kbit, whereas AC3 tracks have a maximum bitrate of 640 kbit.

You also need to decide what to do with the original DTS track. Should it be removed from the file, or should it be preserved? If you preserve the audio track, the resulting file size will increase with the size needed for the AC3 track - perhaps even above the size available on the DVD disc. In order to monitor this, AudioConverter will do an estimate of the resulting file's size. If the file is estimated to be able to be put back on the same size DVD as it could before conversion, the file size will be green. If it cannot, the file size will be red.

Finally, you need to decide which decoder library you want to use. Generally, you should leave it at libav, as this is the decoder library built into the decoder that AudioConverter uses (eac3to). However, if you have purchased either the Nero or Sonic DTS decoders, the decoder can utilize these for higher-quality conversions, but at the cost of speed.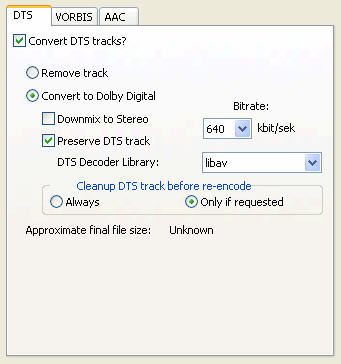 This program also can be used to convert OGG/VORBIS audio tracks to AC3/MP3/MP2/AAC or convert AAC audio tracks to AC3/MP3/MP2 as follow: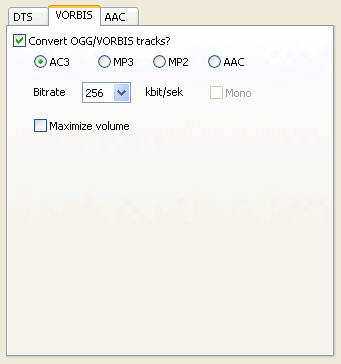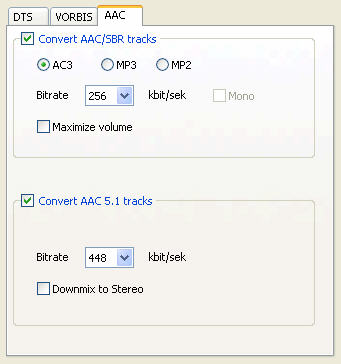 Step 2. select the target AC3 track that you want to convert.
AudioConverter can run in Single File Mode or in Directory Mode, selected by the options "Single File" and "Directory".

When in "Single File" mode, the two input boxes list the source (input) file that should be converted, and where the reulting target (output) file should be stored. You can use a file browser to locate the file(s) with the use of the "Browse" buttons to the right of the input box.
If the source and target file name is the same, you can check "Overwrite Source" to overwrite the source file with the new file, meaning that you lose the source file completely.





In "Directory" mode you specify a source (input) and target (output) directory, and all files in the source directory will be converted and the new files will be located in the target directory. In "Directory" mode, you can also check the "Prompt" option, which will present you with a list of files found in the source directory, allowing you to select exactly which files are to be converted, and which are to be ignored.





When you have chosen to be prompted for which files to convert (in Directory mode), you are presented with a dialog like the one as follow.
Here you can select the files to convert, or you can have AudioConverter scan the files to see if they have either DTS tracks, OGG/VORBIS, AAC SBR or 6ch, or if it has a low-samplerate audio track.





Step 3. Convert DTS to AC3
Once you have specified everything (incl. source and target), you simply press the

"Run" button and let AudioConverter do its thing. It will take the files one at a time, and convert them according to your settings. You can follow along in the process in two places.
At the top of the window (overlaying the area we have so far documented) is a high-level progress log which tells you the steps AudioConverter takes.
At the bottom of the window you can see the program output from the various external programs that AudioConverter uses to do its thing.








Related Article and Guides:
How to convert Mod/Tod video to AVI?
How to convert FLV to iPhone?
How to download and convert YouTube videos to 3GP?
How to convert YouTube videos to MP4?
How to Convert M4V to AVI on Mac?
How to rip DVD to WMV on Mac for your iRiver player?
How to remove DRM from iTunes 9 on Mac?
How to convert AAC to MP3 on Mac OS X?
How to convert 3GP to AVI ?
How to convert RMVB to AVI on Mac?
How to remove region code from protected DVD?
How to convert YouTube to iPhone?
How to put video on iPod
How to rip DVD to iPod
How to Convert DVD Movies to iPod Format
How to convert AVI to iPod
5 Tips to Make Successful Video Conversion
How to convert WMA to MP3