Review: 321Soft Data Recovery Express, Recover any deleted file and folder
Have you ever had a USB drive tell you that you can no longer access it? Have you accidentally formatted a flash drive, only to realize that you had information on there that you still need? Have you ever accidentally deleted your trash bin on your computer only to realize that you had accidentally deleted a file that you need? What about if you have not backed up your data and your computer crashes? If any of these has ever happened to you then you know how frustrating it can be. It can be a huge setback to re-create lost data and some files are simply not the sort of files that can be re-created, such as stored pictures on your memory card, USB drive, or hard drive.
Forget about spending hours laboring over trying to piece together lost data and information. Compute repair places want to charge high fees for restoring your data, it could cost you hundreds of dollars, but what they do not tell you is that you can actually recover the data and files yourself!
That is right, your data is not gone, and it is just not easily available, unless you have 321Soft Data Recovery Express. 321Soft Data Recovery Express is a simply to use undelete utility that will recover your data on both FAT and NTFS file systems. The following hard drive types are supported with this program IDE/SATA/SCSI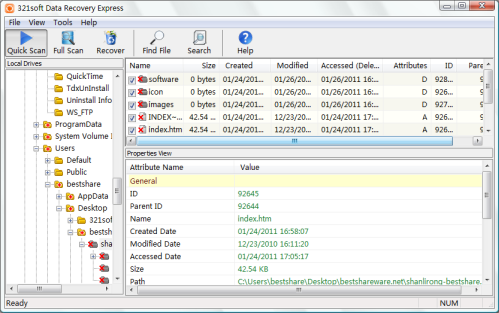 Many recovery programs are designed to recover your deleted and lost files from your hard drive and only your hard drive. 321Soft Data Recovery Express is not just able to efficiently recover data and files from your hard drive but also from your USB drive, SD card, compact-flash memory card, and other storage media. This versatile program works with all storage media types.
There are two scan options, a quick scan and deep scan, which helps to ensure that you recover all of your data. Even compressed and encrypted files can be recovered and the program features a built-in hex editor. Find the recovered files that you need quickly with the advanced search and filtering options and recovered files are displayed in an easy to navigate format that you can filter and sort by name, date, status, and size.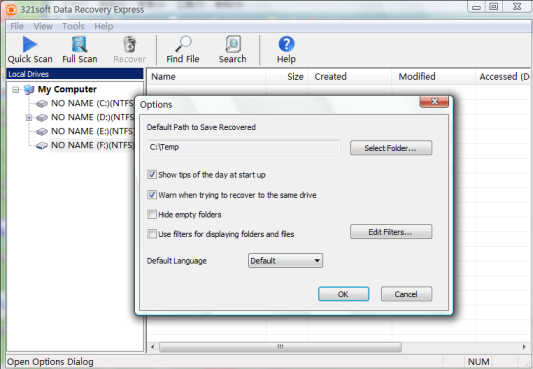 Some recovery programs actually write data to the drive that is being recovered; however, 321Soft Data Recovery Express is read-only, so that it will never write to the recovered drive.
Other recovery programs may only recover certain files, meaning that if you deleted something from a command line or formatted your storage media that you will not get the date back. This program will recover files from formatted drives, crashed hard drives, data lost due to a computer virus as well as other deleted files, even those removed from the Trash Bin!
321Soft Data Recovery Express will recover data lost due to the following:
Improper system shutdown
Virus attack that corrupted files
Emptied recycle bin folder
Formatted storage media
Deleted files
Software crash
Power fault
Logically crashed disk
Files deleted through the use of Shift+Del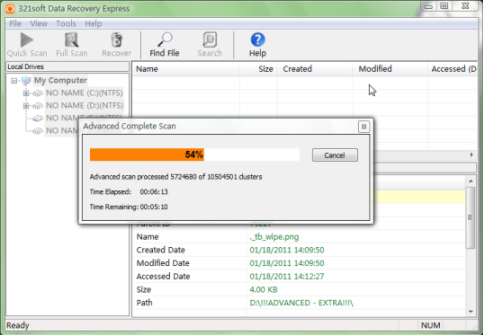 Additionally, 321Soft Data Recovery Express will not only recover the deleted folders, but all of the files contained within! No need to re-organize all of your data once it is recovered because it will all be just as it was!
321Soft Data Recovery Express works with Windows 7/8/2000/XP/Vista and has an easy to use standard Windows Explorer interface. if you register now you can save $10! Original retail price is $39.95 USD but for a limited time is available for only $29.95! It also offers a free trial, You can download the software from the following link:

If you have lost or corrupted data, this is the program that you want to get; it will safely recover your data quickly and efficiently.

Related Article and Guides:
What Are the Best Data Recovery Tools for Your PC?
Best Windows Driver Update Software Reviews
How to convert Mod/Tod video to AVI?
Top 5 Best Screencasting Software for Mac and Windows
How to convert YouTube videos to MP4?
How to Convert M4V to AVI on Mac?
How to rip DVD to WMV on Mac for your iRiver player?
How to remove DRM from iTunes 9 on Mac?
How to convert AAC to MP3 on Mac OS X?
How to convert 3GP to AVI ?
How to convert RMVB to AVI on Mac?
How to remove region code from protected DVD?
How to convert YouTube to iPhone?
How to convert MXF to MOV, QT on Mac?