JobFish 2012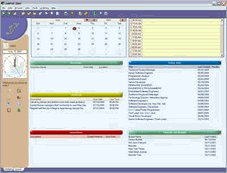 Empower your job search. Extract jobs from various job boards, such as ActiveWireless.com or CareerBuilder.com with ease.
JobFish is the world's most popular job search software to get your career back on track by managing your job search and finding exciting employment opportunities. JobFish 2010 helps you navigate the job boards, identify full time and part time jobs that are a match for your career goals, and manage your communications with potential employers. The software even handles your EDD unemployment benefits paperwork. Explore all the capabilities of JobFish, and see how finding your next career can get a jumpstart.

There are many jobs posted on the web, but finding, extracting, and then applying for the right one is the hard part. Don't miss out because you were late finding the job opportunity or were late applying for the job. With JobFish you can do all these tasks in moments without having you jump through any hoops.
Download JobFish 2010 today!

Download Trial 70.40 MB
Software Information
System Requirements
Version:
2012 Build 2068

Windows XP, Vista, or Windows 7
Internet Explorer 5.0 and above
200 MBytes free hard disk space
512 MB RAM

File Size:
70.40 MB
License:
Free to try, $54.99 to buy
Screenshot:
View Screenshot
Rating:
JobFish 2012 Main Features:
Reports
JobFish now includes reports of various kinds. With print preview support and export capabilities to HTML, you can have your job data any way that you want.
Microsoft Access
Users can now open up the report data files in Microsoft Access, where you can customize and manipulate the data further.
Second Generation Job Extraction
JobFish now introduces an all new way to deal with job boards by talking directly to the job board's database server. You not only can see the same jobs that you see online, but you can have JobFish automatically schedule downloads, import jobs into your job list, and much more.
Complete recruiter management
Don't spend hours on the phone or writing emails to recruiters. JobFish will do it for you in minutes.
Extract job postings from job boards with a single click
Eliminate the tediousness of extracting appropriate jobs to apply for from the various job boards, such as CareerBuilder.com. JobFish will do it for you with a click of a button.
Complete job prospect tracking and management
Cleanup your desk and organize your job prospects the right way. JobFish will organize, track, and give you the information that you need quickly.
Intuitive "information at your fingertips" interface
Don't fumble through index cards or Excel spreadsheets when a recruiter or hiring manager calls. JobFish gives you the information at a glance.
Total Integration with SI-Metric Office
Advanced reminder capability of all your interviews and hiring company/staffing agency interactions with total SI-Metric Office integration. Create an interview and/or an interaction in JobFish use the "Review Your Schedule" wizard to review and update your schedule and interact with SI-Metric Office. You can configure audible voice alerts (say the text), sound alarms, frequency, and several other settings.
Automatically create presentation packages
First impressions count. JobFish with the EasyJob Pro plug-in allows you to automatically create a presentation package (resume and cover letter) for a new job prospect. Choose from any of 10,000 included templates.
Import contacts from a CSV file or Microsoft Outlook
Use our import wizard to import your contacts from either Microsoft Money or a CSV file (comma or tabbed delimited). The wizard will guide you each step of the way and give you maximum flexibility for you advanced users. You can even export contacts back out! In this way you can keep your data synchronized with your existing applications.
Integrated calendar, daily planner, and task lists
Getting a job means keeping your contacts (recruiters, friends, etc.) on their toes. JobFish keeps track of your interactions, interviews, and tasks with its integrated calendar and daily planner.
Determines whether a new job record from a job board already exists
Create copies of jobs and create new job records for a recruiter
Are you duplicating your efforts? Ever apply for the same job twice? Have you ever duplicated information by hand, when working on a second job opportunity from a recruiter? JobFish solves all these problems and more.
Spreadsheet like motif. Open an unlimited number of jobs
Leave the lose ends and paper fragments behind you. JobFish lets you work on an unlimited number of job prospects simultaneously.
Interview questions and tips database
Getting the interview is half the battle. Prepare for the interview using our interview questions and tips manager.
Integrated email with NO SMTP Server requirement
Integrated browser. Mozilla-style browser tabs support
Reduce the time and frustration of applying for jobs. JobFish has an integrated browser and email support to make applying for jobs a snap.
Multi-user and multi-platform support
Don't leave your family behind. JobFish supports multi-user and multi-profile support. It's even great for those with multiple careers!
Integrated help system
Are you worried about how to get started or are you all thumbs, when it comes to computer software? JobFish comes with lots of sample data, a built in form-help, integrated help, and all the free technical support that you need. You'll be extracting jobs in minutes.