A-book - Address Book Software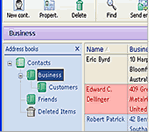 A-book is a full-featured address book software with dialer. This software features many great options that make A-book an essential tool for business and personal life. Like envelope and label printing feature that lets you instantly create and print envelopes addressed to a person you select from your A-book entries. Or "Save for Web" option that lets you place your data on the Internet.
A-book supports synchronization with Pocket PC devices. This option is provided by Pocket Syncomatic add-on.
Every program starts with an interface, and you will definitely like ours. It is simple, attractive and convenient. You can arrange your address books in tree-like format and display data using contact list and contact info views. A-book's search feature lets you quickly find any necessary information - address, phone number, notes, etc. You can add and remove columns in the contact list to instantly create address lists and phone lists.
Other important features of A-book are built-in backup and restore options. After all, you don't want to lose hundreds of addresses, e-mails or phone numbers you collected over the years. Multi-user access makes A-book perfect for office use.
A-book is fully customizable, supports user-defined categories and provides great extra options, such as clock with time-zones, report and memo card printing, speed-dial and call-logging options, support for foreign language alphabets, e-mail client and web browser integration.
Moreover, you don't need to retype your contacts — use A-book import options! A-book supports various formats of text files and vCards. This means, you can easily move your contacts from Lotus, Eudora or Outlook.



Download Trial 1.78 MB
Software Information
System Requirements
Version:
3.1

Windows 98/Me/NT4.0/2000/XP
Pentium or similar processor
64 MB RAM

File Size:
1.78 MB
License:
Free to try, $29.95 to buy
Rating:
Key Features of A-book:
User-defined Data Files
You can create several data files for the different needs and store them in the different locations. Backup and restore options also available.
Multi-user Access Over the Network
A-book supports multi-user access to a data file over the network. In this case one user, "owner", opens a data file with read/write (full) access, and others can open this file with read-only access.
Printing Capabilities
A-book lets you preview and then print labels and envelopes of different sizes. There are more than 100 predefined label formats! You can also print phone lists and memo cards with complete contact details.
"Save for Web" Option
A-book makes it easy for you to save your contacts in a group of files ready to be posted on your web site or placed on the network share.
Wide Range of Data for Each Contact
Each contact record stores plenty of data such as name fields, phone numbers, emails, addresses, birthdays, job and family information. You can also include a photo or a picture.
Import and Export
A-book supports import and export of data in native and commonly used file formats. You can import information from different types of text files and vCards. Import from Windows Address book also supported.
Work in the Taskbar Status Area
When you start A-book it adds an icon to your taskbar status area (also known as "system tray"). Right-click on the icon will display a context menu with various commands. Double-click on the icon will show the A-book Main Window.
More Screenshots - Click each image to enlarge!
RELATED SOFTWARE DOWNLOADS