InstantInvoice 3 - Invoicing software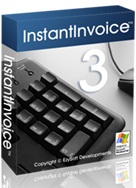 Invoicing and quotation software for the small business. Track customer payments. Very fast setup and learning. Preview and print powerful reports and charts instantly like invoice listings, sales by customer, outstanding invoice list, customer statements and more.

An Invoice software product to get you up and running in 10 minutes or less. Instantinvoice 3 handles all your quotation (estimates or proposals) and invoicing needs. Suitable for businesses who are not registered to bill/collect tax, businesses with one level of tax and businesses with 2 levels of tax (e.g. State and Federal tax).
Instantinvoice 3 allows you to keep track of customer payments and track outstanding invoices. Preview, print or email a variety of reports including sales, customer payments, outstanding invoices and tax reports.




Software Information
System Requirements
Version:
3.4.8

Windows ME/ 2000/ XP/ 2003 Server/ Vista
Pentium or simialar processor
64 MB RAM

File Size:
4.40 MB
License:
Free to try, $79.00 to buy
Rating:
InstantInvoice - Invoicing software Features:
Invoicing software to create all business Invoices and Quotations or Proposals.
Multi-company invoicing software allowing you to use it for more than one company or business.
Tax can be set for businesses who do not bill tax, businesses that bill one level of Tax and businesses that bill 2 levels of Tax (e.g. Canada).
Invoicing software that allows you to customize Invoice and Quotations body columns according to your needs.
Keeps track of customer payments and outstanding invoices. Allows deposit payments, partial payments or multiple payments for a single invoice if necessary.
Create new Invoices from quotation contents and vice versa. E.g. if your customer confirms your quote, you can instantly create a corresponding invoice for it with just one mouse click.
Flexible Invoicing software that's able to copy contents from one document to another.
Can enable or disable "Product List" depending on whether yours is a trading or service oriented business.
InstantInvoice 3, Invoicing software can build customer lists on the fly. This means that as you key in your invoices, new customers can be automatically added to the customer list for use in future invoices or quotations.
Build product list on the fly. This means that you can add items to your invoices even if it doesn't exist in your product list. You can then easily save new items to your product list.
At the click of a mouse, the Invoice and quotation body can be easily changed from a pick list (if you need to pick from your product list) to a traditional data entry column when you simply want to key in any text or messages to the invoice body.
Invoicing Software with powerful find features to quickly locate your invoices or quotations by customer, dates or invoice/ quotation number.
Able to add an image logo as your business letterhead.
Can enable or disable shipping address in invoices and quotes.
Invoicing software allows you to preview all reports on screen before printing.
View and print reports of invoice totals over a period including tax breakdown.
View & print outstanding invoices.
Generate customer statement of accounts.
Generate 3 dimensional graphical bar chart by month or by year for invoice totals to track business progress over time.
Email all documents and reports as a PDF (Adobe Acrobat) format. No additional filters required.
Send Emails.
Password protect your database.
Invoicing software with built backup/ archive & restore function.
More Screenshots - Click each image to enlarge!
RELATED SOFTWARE DOWNLOADS FOR INSTANTINVOICE 3 - INVOICING SOFTWARE