askSam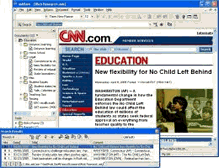 The World's Most Popular Free-Form Database.
askSam is the ideal application organize your information. askSam is a different kind of database - a free-form database designed for users rather than programmers.
It's never been easier to organize, search, and manage your information. askSam 6 is a flexible and powerful way to organize information and create searchable databases from Web pages, Email, PDF files, texts, and Word documents. For over 20 years askSam has been the choice of researchers and other information professionals. See why over 350,000 businesses, organizations, and individuals rely on askSam.




Download Trial 23.20 MB
Software Information
System Requirements
Version:
6.0

Windows 9x/Me/NT/2000/XP/Vista
Pentium or similar processor
64MB RAM

File Size:
23.20 MB
License:
Free to try, $149.95 to buy
Rating:


Click each image to enlarge!
Use askSam for...
Research
Free-Form & Text Databases
Email Archiving
Web Databases
Databases of Microsoft Word Documents
Electronic Publishing
Recruiting / Resume Solutions
Meeting Minutes
Custom Database Solutions
askSam Features:
Dynamic Folder View: Organize Your Information in Folders
With the Dynamic Folder View, askSam lets you place your information in folders and sub-folders. Unlike most folder implementations, askSam Folders are displayed dynamically. You select a field in your database and askSam builds the Folder View based on the contents of this field.
Save Web Pages Directly Into askSam
You can choose to save the current Web page, or you can save the current page as well as linked pages. askSam allows you to enter a title, keywords, and notes about the pages you save. Web pages can be saved into Entry Forms that you create. You can define specific fields that are relevant to the information you gather.
Browser View Displays Saved Web Pages in askSam
askSam's Browser View displays Web pages just as you'd see them in your browser - complete with graphics, formats, and frames.
Automatically Build Pick Lists from the Contents of a Field
A new Pick List option lets you automatically build Pick Lists from the contents of a field.

Automatically generate a pick list from any field in the current file or another askSam file.
Define a delimiter that separates terms in the field (for example a comma or semi-colon).
askSam automatically lists and sorts the pick list.
Great for generating lists of keywords, authors, categories, etc.

Floating/Dockable Search Results Window
The Search Results Window is now displayed as a floating window. This lets you place it along side your askSam file (if you're working on a large or high resolution monitor). You can also dock the search results Window to save space on the screen.
Tabbed Interface in Search Results Window
The floating Search Results Window displays tabs to let you quickly switch between databases that you've searched.
Associate Search Results View with Stored Searches
You can associate a customized search results view with a stored search. First, define your search view by either customizing the default view or creating a new view. Then on your stored search screen, check the "Associate with Search Results View" option. A new window pops up that will let you choose the Search Results view from a list.
Pick List in Stored Search Prompts
You can set up stored searches use search prompts, and you can select a pick list to display in the prompt. For example, a report that asks you to "Choose the Sales Rep" could also give you a pick list of the Sales Reps.
Prompt Exact Phrase Vs. Multiple Words
In prompt searches, you now have the option of choosing whether the search term is an exact phrase (for example "leather sofa") or multiple words (for example "leather" and "sofa" which would find the phrase "the sofa was leather")
Pick List in Report Prompts
For reports that use search prompts, you can select a pick list to display in the prompt. For example, a report that asks you to "Choose the Sales Rep" could also give you a pick list of the Sales Reps.
Word List in Report Prompts
For reports that use search prompts, you can select search terms from the Word List to insert into the prompt. The Word List is generated when an askSam database is indexed. This feature is available in Pro version only.
Reports and Paper Size
askSam Reports now allow you to specify a specific paper size and this paper size will be saved along with the report. The default size for the report is used from your printer's default settings. When the report is printed, it will use this paper size.
And much more ...
More Screenshots - Click each image to enlarge!
RELATED SOFTWARE DOWNLOADS