Financial Advisor v2.55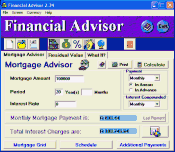 Financial Advisor is a personal financial program which contains many useful financial tools and calculations.

A comprehensive set of financial tools aimed at the Personal User including: Mortage calculations and analysis, Retirement Planning, Investment and Savings calculations, Annuity calculations, Future Value and Residual Value calculations, Home Budgeting, Education Cost Planning, Effective and Nominal Interest Rate Conversions, Inflation calculations, generate Lottery Tickets and more. Calculate the required results and display or print them.




---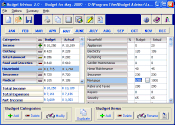 Budget Advisor v2.15


Budget Advisor allows you to create a budget for the entire calendar year to cover regular monthly expenses as well as items which are only applicable to particular months.
The budget is split into categories, each of which can have different budget items. You can have up to 50 budget categories, each of which can have 50 budget items. This means that you can have a total of 2500 budget items.




Note:The trial version of Financial Advisor includes Budget Advisor FREE.




Software Information
System Requirements
Version:
2.55
2.15

Windows 8/7/XP/Vista
Pentium II CPU
64 MB RAM

File Size:
2.56 MB
1.5 MB
License:
Free to try, $35.00 to buy
Free to try, $15.00 to buy
Download:
Click to Download Financial Advisor
Rating:
Whats New in Financial Advisor ?
Retirement Planning: Analyze your current savings strategy to see whether it will meet your retirement needs and create a personal savings plan.
Mortgage Calculations: Calculate and analyze your mortgage, view detailed schedules or graphs, and get advice on how to pay off your mortgage earlier and save money at the same time.
Investment and Savings Calculations
Future Value calculations
Residual Value calculations
Annuity calculations
Planning for your childrens education
Features in Budget Advisor:
Budget Categories can be income or expenses
A new report which allows you to quickly edit your budget
Two new graphs for helping analyze your budget
Export your budget into Excel or other spreadsheets
More powerful reports on your budget
Don't waste time typing the same things each month. Just use the Duplicate option to duplicate budget items from one month to other months.
Add notes to any budget item for each month.
Use the built in calculator to quickly enter many expenses into a budget item.
More Screenshots - Click each image to enlarge!