FastAnswer Fast-Cast For Ventures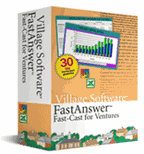 Create the most complete and accurate financial projections using the techniques that experts use! Fast-Cast saves you time, effort and money by preparing full financial plans in a fraction of the time it used to take. Prepare pro-forma sales and expense projections, P&L's, balance sheets, cash flows, debt and asset schedules, and more. Completely button and menu driven, Fast-Cast asks only for the numbers it needs to calculate the financials. You won't waste time entering or analyzing unnecessary information. And Fast-Cast creates dazzling, rofessional quality reports that you can present to your boss, accountant, or banker. Don't be content with lesser substitutes, or even our own "mini" version of Fast-Cast that the leading software vendors now incorporate into their spreadsheet products. The Fast-Cast described here is the full-blown version, incorporating over 60 detailed schedules! For serious financial planning, this product is a must-have.



Buy Now $69.95 USD
Software Information
System Requirements
Version:
New

OS:Windows 8/7/XP/Vista
Office Suite:Office 95, 97,2000,XP,2003 or Lotus 1-2-3 or Quattro Pro
Processor:Pentium II CPU
RAM:512 MB or more

License:
Free to try, $69.95 to buy
Screenshot:
View Screenshot
Download:
Download after payment
Rating:
Key Features:
Fast-Cast supports monthly, quarterly, and yearly projections.
Prepare comprehensive five-year projections and instantly see your pro-forma P&L statement, balance sheet, cash flow, stockholders' equity, sales, operating expenses, short and long term debt, fixed and intangible assets, income taxes, and 11 key ratios.
The entire program is completely interactive. You can make as many changes as you like, as often as you like. Changes automatically ripple through all the financial statements for all affected future periods. You won't have to waste your time doing any extra calculations yourself.
See the balance sheet, P&L, sales and cost of sales, and expenses as a percentage of sales.
Analyze your cash flow as a percentage of cash from operations. View graphs of debt to equity, income statement, non-annualized return, and the working capital ratio.
The Clear Data button makes creating another version simple. Just clear data, enter new data, and save.
Make financial projections whether you're a C Corp or an S Corp! This program accounts for income taxes automatically.
Fast-Cast was created by an executive-level CPA with dozens of years of experience, and improved by a team of Harvard MBAs.
More Screenshots - Click each image to enlarge!