o2olap for Excel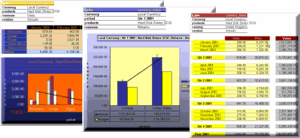 o2olap for Excel (o2olap) is an innovative, mature and flexible Excel add-in for Microsoft's Analysis Services, that allows users to leverage their existing Excel knowledge within an Analysis Service environment. O2olap, whilst capturing the power of the Microsoft Analysis Services platform, also leverages the power of Excel and the Excel knowledge that users already have, to provide for a rich and productive reporting and modeling environment. O2olap has streamlined and extended the functionality to enabling a more complete, productive, risk-free and cost saving working environment. O2olap enables analysts and financial reporters to be more proactive without having to understand the complex code, or wait for IT assistance. The combination of o2olap's toolset, flexibility, innovation and completeness make it the fastest and easiest Analysis Services development environment and with the leading OLAP Excel browser.
O2OLAP for Excel provides a comprehensive toolset that extends the Microsoft's Analysis Services and SQL Server environment to make it suitable for use by finance professionals for business analysis and reporting.



Buy Now $850.00 USD
Software Information
System Requirements
Version:
New

Windows 98/Me/NT/2000/XP
Excel 9 (2000), Excel 10 (XP) and Excel 11 (2003)
Internet Explorer 5.0 or higher
Pentium III CPU
128 MB RAM

File Size:
27.1 MB
License:
Free to Try, $850.00 to buy
Rating:
o2olap for Excel Features:
An Excel based browser that provides highly flexible analysis and exploration capabilities including ad hoc summarisation, which is optimised for financial users.
Provision of modelling capabilities through the inclusion of spreadsheet writeback and input journals.
Ability to easily produce customised storybooks with out coding that enable non technical users to view and manipulate data in an attractive and intuitive manner.
Rapid report production incorporating text, tables and graphics with consistent formats using templates.
Benefits to Users:
Provides the fastest way to deliver Microsoft Analysis Services (OLAP) solutions, information and reports to an enterprise. No MDX is required to generate a data view.
Provides business intelligence out of the box with the power of improving business knowledge management.
Integrates and streamlines the management, consolidation, budgeting, planning, forecasting and data analysis reporting environments for a competitive advantage.
Helps in successfully producing and analysing enterprise data, and using that data to make key business decisions.
Provides the Excel objects development environment that no Visual Basic for Applications (VBA) macros are required. Executive information systems (EIS) are a synch with this rapid application development environment (RAD).
Enables data capture (writeback), entry and analysis through power Excel objects for the Microsoft's SQL Server and Analysis Services (OLAP) cubes.
Helps data mining and presenting your data warehouse solution information for data analysis.
Enables finance to develop applications without high levels of technical knowledge or coding.
Completely consistent with a Microsoft centric IT strategy and enables IT to have an appropriate level of control over finance activities without inhibiting effectiveness.
Low cost through the use of Microsoft technologies
Enhanced openness and integration with existing applications such as the Microsoft SQL Server and the Microsoft Office suite.