EditPlus Version 3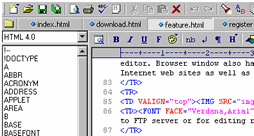 EditPlus is an Internet-ready 32-bit text editor, HTML editor and programmers editor for Windows. While it can serve as a good replacement for Notepad, it also offers many powerful features for Web page authors and programmers.








Software Information
System Requirements
Version:
3.00

Windows 8/7/XP/Vista
Pentium processor
64MB RAM

File Size:
944 KB
License:
Free to try, $35.00 to buy
Rating:
Key Features of EditPlus:
Syntax highlighting
EditPlus supports powerful and customizable syntax highlighting for HTML, CSS, PHP, ASP, Perl, C/C++, Java, JavaScript and VBScript by default. Also, you can create your own syntax file to support other programming languages.
Internet features

Seamless web browser for previewing the content of your HTML document or Java applet without leaving the editor. Browser window also has common browser commands so you can browse Internet web sites as well as local HTML files.
FTP commands for uploading your local files to FTP server or for editing remote files directly.
Highlights URL and e-mail addresses in normal text files and lets you activate them with a single keystroke (F8) or 'Ctrl + double-click'.

HTML toolbar
The HTML Toolbar allows you to insert common HTML tags quickly and easily. It also supports useful tools such as HTML Color Picker, Character Picker, Table Generator and Object Picker.
User tools
EditPlus supports user-defined tools, help files and keystroke recording files. The output of tool execution can be captured in the Output Window, so that you can double-click the error line to automatically load the file and locate the cursor to that line.
Document selector
The Document Selector offers quick mouse access to all document windows currently loaded. Much faster than selecting on Window menu or pressing Ctrl+Tab key multiple times.
Auto-completion
Auto-completion is a time-saving feature which changes a short abbreviation into a complete string. It supports Perl and C/C++ by default. Also, you can create your own auto-completion file to support other programming languages.
Document template
Document template offers a quick start when you create a new document.
Cliptext window
The cliptext window is collection of text clips for quick and easy access. You can easily customize them, and you can also create your own cliptext file.
Other features
Line number, ruler, column selection, powerful search and replace, multiple undo/redo, spell checker, customizable keyboard shortcuts, and more.
More Screenshots - Click each image to enlarge!