Lower Case Switcher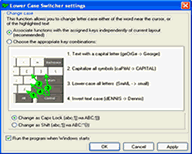 This program will help you to convert letter case either if you need to capitalize the first letter in a name or if you forget to turn Caps Lock off while typing.
The program supports ALL keyboard layouts and languages (except for Chinese and other hieroglyphic languages).
Support of umlauts and other symbols, which are usually entered by "dead keys".

Letter case conversion:

uppercase -> UPPERCASE (Ctrl+[) convert to upper case
lOWERCASE -> lowercase (Ctrl+]) convert to lower case
sErGe -> Serge (Ctrl+/) capitalize first letter
dENNIS -> Dennis (Ctrl+') invert text case.




Software Information
System Requirements
Version:
2.00

Windows 9x/Me/NT/2000/XP/Vista
Pentium processor
256 MB RAM

File Size:
568 KB
License:
Free to try, $30.00 to buy
Rating:
Main Advantages:
To convert a text, it is enough to place the cursor at the end of a word, which is to be corrected, and then simultaneously press two hotkeys.
The hotkeys for managing text conversion are located in eminently suitable places, and you will always be able to find them by touch, without stopping looking at the monitor.
The program also allows you to work with a selected text no matter how large it is.
Program does not change the contents of the clipboard
Even if the text you correct contains special characters, such as (TM), ©(C), the program nevertheless does correct the text.
More Screenshots - Click each image to enlarge!