Criline Search and Replace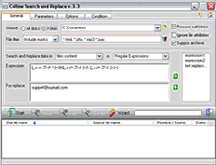 Criline Search and Replace is a general purpose windows search and replace utility that is oriented towards text-based files such as program code, html code, log files, etc. and binary files such as programs, pictures, mp3 files, etc.
Criline Search and Replace looks through multiple files for a string and can also replace it with another string. It can search subdirectories and do case sensitive or insensitive searches. Binary search and replace is also available. You can specify multiple include/exclude file masks and filters based on file date & size. Control over replacements includes a display of replacements before they are made.
Criline Search and Replace can also launch associated programs on your found files, e.g., launch your web browser if the search hit occurs in an .htm or .html file.




Software Information
System Requirements
Version:
3.3

Windows 9x/Me/NT/2000/XP/2003/Vista
Pentium or similar processor
64MB RAM

File Size:
996 KB
License:
Free to try, $19.95 to buy
Screenshot:
View Screenshot
Rating:
Major Advantages:
HEX search and replace.
Fastest search algorithm.
Regular expressions support.
Comprehensive user interface.
Keeps your files safe as the process of replacement is undertaken in memory, not in files.
Extremely fast, easy to use and excellent documentation is included.
It is a great time-saver for programmers and Webmasters.
Main Features of Criline Search and Replace :
Search and replace in archives.
All parameters saving
Regular expressions searching
Script replacing
Multi mask searching
Autobackup files
Include and exclude file masks
Date, time and attributes masks for the files found by the file mask, path, and filter settings
"Size limited" searching
"Case sensitive", "Prompt for replace", "Whole words only" replace options
"All local disks" searching
Multi and single line searching and replacing
Search and replace in filenames and foldernames
You can save the report about the found files and detailed information about the occurrences found in them.
You can find files by specifying the path, name masks, and a query. You can search documents for a phrase or several words, multiline or regular expression and use the search engines style queries.
You can modify files one at a time or change them all with a single mouse click. Support is offered for both single and multiline entries.
This useful tool is fast and easy to use and of particular value to Webmasters who need to deal with ever-changing content on their Web sites.
The powerful string search feature supports Boolean operators and displays and highlights matching strings. The even more powerful replace facility lets you insert text before or after search phrases, delete text, and replace text with spaces, in addition to standard text replacement.
More Screenshots - Click each image to enlarge!