101 Clips Pro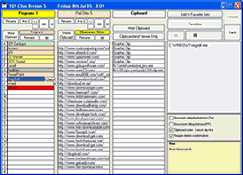 Typing something youve typed before? Searching for that graphic file, web address or phone number you know you have somewhere? You need 101 Clips. No other multi clipboard offers 101's unique clip cataloging system. You can catalog by group or by favourites, in alphabetic or arranged order and with or without color highlighting. There is even a search facility which will find text both in the names you give to your clips and in the clips themselves. The best thing about 101 clips is when you come to re-use your clips. Unlike other clipboards which just paste back the clip contents, 101's inbuilt clip analysing system not only allows you to see each clip as the mose moves over its name but also provides you with a browser launch button when the clip contains a web address, an email button when it contains an email address, a dial button when it contains a phone number and a run or open button where it is a program or file on your computer. Other 101 features include, bulk pasting, a form filling mode, keyboard only operation, on top mode and manual clip creation.




Software Information
System Requirements
Version:
6.0

Windows 9x/Me/NT/2000/XP/2003
Pentium or similar processor
64MB RAM

File Size:
1.86 MB
License:
Free to try, $29.99 to buy
Screenshot:
View Screenshot
Rating:
101 Clips Pro Features:
Clips From Other Programs
The multi clipboard captures everything that you cut or copy from any program and all clips are saved to disk so that they are available after a computer restart. The last 30 clips are shown in the clipboard area. As you move the mouse over the clips, you can see them in the viewer. If the clip is text, you see the first several lines and if it is a graphic, you see a thumbnail. To paste back a clip, you click on it. To save clips permanently, you drag them to a group in the library. There are 100 groups in the library and you can have 100 libraries (300,000 clip capacity).
Outlook Compatible
One of the features is that you can paste any screen or graphic directly into the body of an Outlook Express email. With most other programs, you have to save graphics as JPEGs and then attach them.
Screen and Graphics Capture
It captures the entire screen when you press Prt Scr and the active window when you press Alt + Prt Scr. If you use AOL or Internet Explorer, it captures any web graphic when you right click on it and click "Copy".
Form Filling
It has a "Form filling" mode: Pre-save clips of name, address, phone no. Etc. and you can fill forms just by right clicking on those clips - It even moves the cursor automatically to the next field after each paste.
Bookmarks for Web and Email
Any clip which is an Internet web address automatically has a "Go To" button which opens a browser window with the page in it, and any clip which is an email address automatically has an "Email" button which starts a new email to the address. Bookmarks saved in it are totally browser independent - Capture in Netscape and go to it in IE Explorer.
Phone Numbers
Any clip that is a phone number automatically has a "Dial" button which launches the Windows dialer and calls the number. You can also automate the dialing of phone numbers via calling card companies.
Files and Folders
Any clip that is a file on your PC automatically has either a "Run" or "Open" button which opens the file.
Program Launch
It has four customizable buttons which start your most used programs. Dragging a clip to one of these buttons, starts the program and pastes in the clip. This allows you to edit clips in the program that first created them. It also means that you have an alternative to saving documents as files. Instead of saving a document and reloading it from a file, you can just copy it and paste it back later. When you reload from file, you only have a list of file names to select from. Finding the document as a clip with the clipboard viewer is much easier.
Bulk Paste
If you collect data for entry into a spreadsheet or data base, you can bulk paste up to 30 clips at a time. It will paste each clip with an intervening TAB, ENTER or DOWN ARROW key to send each clip to the next field, record or line.
Text Stripping
Capture an entire web page and paste only the plain text from it.
Web Site Log On
Keep your username and passwords in the same clip as a web address and they pop up in a mini clipboard when the web site loads.