Actual Window Guard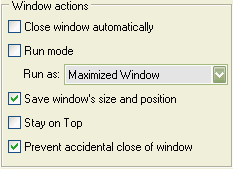 Actual Window Guard is a proven desktop productivity enhancement solution that allows corporate and personal users to extend and manage their desktop for increased productivity and manageability.
More robust in features and functionality than any other desktop enhancement solution on the market, Actual Window Guard benefits from the proven technology of Actual Tools and includes the following functionality: close annoying pop-ups or other windows user don't want to see, automatically minimize certain programs upon startup or open them full screen, save and restore size and positions of windows and much more.
This utility is the final step to optimize your use of program windows and make them more comfortable to use!
Software Information
System Requirements
Version:
4.30

Windows 8/7/XP/Vista
Pentium processor
512 MB RAM

File Size:
3.33 MB
License:
Free to try, $29.95 to buy
Rating:
Key Features of Actual Window Guard :
Automatically maximize windows upon startup:
Actual Window Guard will help you automatically open full screen certain programs upon startup. Automatically maximize Internet Explorer or any other window upon opening!
Automatically minimize windows upon startup:
Automatically minimize Outlook Express or any other window upon opening!
Close windows automatically:
Another helpful feature of Actual Window Guard is that you can set it to close annoying pop-ups automatically, or other windows you don't want to see.
Align window upon startup:
The 'Align Window' feature lets you get any application window aligned with any of the 9 positions on the desktop - upper-left, upper-central, upper-right, etc.
Save window size and position:
If the windows of the programs you run are always appearing somewhere you don't want, or in some size that you don't want, or not as visible as you want - then Actual Window Guard will delight you. It will allow you to "discipline" unruly windows and put your desktop in order.
Set window position and size when it is created:
Actual Window Guard also allows setting window coordinates and size manually.
Keep window on top:
The Stay On Top feature brings the window to the top of the desktop and doesn't allow other windows to hide it.
Prevent accidental close of of window:
Did you ever close a window by mistake? Perhaps it was inconvenient, or maybe you even lost some data! Actual Window Guardprevents this.
Change window title:
Now you can replace the original title of a window to say whatever you want it to say! For example, you can rename your word processor, a game, etc.
Change Program Priority:
This feature can change the speed of execution for any program from low to high or back. Be careful, and don't make changes unless you know what you are doing.
Remove window from taskbar:
You may remove some windows from your taskbar and make them more convenient.
Individual window settings:
You can configure every program's windows to different options, leave them that way for a while, or change the options whenever you wish! Your configuration for each window will remain set after every bootup until you change it.
Multilingual support:
Actual Window Guard supports English, German, Spanish, French, Italian, Portuguese, Swedish, Danish, Catalan, Turkish and Polish languages.