ILoveClipboard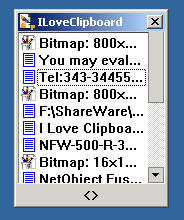 ILoveClipboard is a useful software to manage Windows clipboard. It can completely save your copied data. You can copy one time and paste many times. It supports text and bitmap. You can paste the content anywhere anytime unlimited. All the data in the board will be saved when the application exit. So you can use the clipped data saved before when you open your machine next time. It supplies several characteristic features for the users who usually edit text file, such as "compounding paste" , inserting your copied content automatically before or after others, helping you to accomplish trivial tasks and setting top of some information. Thus you can find the information you often used. It is really a good helper of all users.







Software Information
System Requirements
Version:
1.10

Windows 8/7/XP/Vista
Pentium processor
512 MB RAM

File Size:
363 KB
License:
Free to try, $15.95 to buy
Rating:
Frequently Asked Questions:
How to use ILoveClipboard ?
After install the software, you can do your operation as usual. If you want to paste any contents saved in the clip. Just press Ctrl+Shift+F. The software will pop-up service window.
Can I paste several contents together?
Of course you can. After you choose one content, Press Ctrl to choose another one. Or you can choose one and press Shift, then to choose another one. The contents between the two will be used all. At last, press ENTER or click right button of the mouse and select PASTE. More contents can be pasted.
How long will the contents be saved in the clipboard?
If the software exit normally, the data in the clipboard will be saved on the disk, and be loaded at the next startup time. The contents will not be lost. The data of the software is saved in the folder named "data" in the same directory which the software is in. You can backup the folder to get several copies.
How to enable and disable "compounding paste" feature?
Clip the button at the button in the main window of the software, an option window will pop-up after you click. Check the option to enable "compounding paste" feature and uncheck the option to disable it.
I have some other questions. Who can I ask?
If you have any questions, please email clip@HexiSoft.com We would reply to you as soon as possible.
RELATED SOFTWARE DOWNLOADS FOR ILOVECLIPBOARD