Maple Professional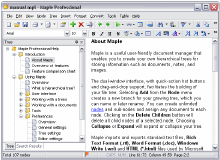 Maple Professional is the flagship of the tree outline managers for power users. It enables you to create hierarchical trees for storing information such as documents, notes, and images. You can create unlimited nodes and sub-nodes and assign any document to each node. Documents can be loaded from file and saved in .rtf, .txt, .doc, .wri, or .html format. You can easily create a backup copies of your trees with a backup system. If you have confidential documents, which you want to encrypt, you can use built-in file encryptor. If you have Microsoft Word installed in your system, you cand use all benefits of it's spelling system. In addition to built-in Maple spell checker, you can perform grammarand synonyms check. Maple Professional supports full text formatting as well as drag-and-drop.
The advanced features of the Professional edition of Maple are: an advanced search utility; backup system; built-in file encryptor; built-in calculator; integration with Microsoft Word, and more...




Software Information
System Requirements
Version:
7.1

Windows NT, 98, ME, 2000, XP, 2003 Server, Vista
Pentium II CPU
256 MB of RAM

File Size:
10.9 MB
License:
Free to try, $30.95 to buy
Screenshot:
View Screenshot
Rating :
Maple Professional features:
Word processor - full rich text editing of documents
Tree editing - create any tree structure you want
Drag and drop - rearrange the tree by dragging nodes to another location
Hyperlinks - links to nodes, documents, folders and programs, Web pages, email addresses..
Node icons - mark each node with its own icon. 100+ built-in icons!
Images - insert, display, print, export, and print pictures and photos
Import/Export - an extremely wide range of import and export capabilities
Portability - run directly from any external disk
Unlimited dastabase size - store hundreds of images and dozens Mb of data
Finder - an advanced search utility. It makes it easier to search for Maple tree files. When you use Finder, you can specify several search criteria. For example, you can search for tree files in the specified folder. You can even search for files containing specific text.
Backup system. Now you can easily create a backup copies of your tree. Maple backup system supports .zip and .cab compression.
Built-in file encryptor. You are likely to have confidential documents on your computer, which you may want to encrypt. Encryption Wizard will help you to protect any information. It uses a very strong Blowfish crypto-algorithm. Protected files cannot be decrypted without the correct password.
Built-in Calculator. You can use Calculator to perform any of the standard operations for which you would normally use a handheld calculator. Calculator performs basic arithmetic, such as addition and subtraction.
Integration with Microsoft Word Spell Checker, Grammar Checker and thesaurus. If you have Microsoft Word installed in your system, you can use all benefits of it's spelling system. In addition to built-in Maple Spell Checker, you can perform grammar check or search for synonyms with thesaurus.
Custom node icons. Now you can use custom icons to brighten up your tree or identify key nodes.
Web Tree. You can export Maple tree outline and all documents to a set of .html files and view these trees in a Web browser, or publish them on a Web sites. Click here to see a sample.
HTML Help. This feature converts Maple tree to Microsoft® HTML Help file (.chm), the standard help system for the Windows platform.
Import folder content. You can import multiple documents into the tree with a one click.
Export/Import Settings Profile feature. You can create a number of settings profiles and import them without restarting Maple.
RELATED SOFTWARE DOWNLOADS FOR MAPLE PROFESSIONAL