Formula Builder for MS Word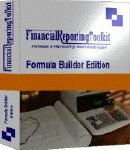 The Formula Builder Edition is an add-in program that makes it easy to create formulas in Microsoft Word!
Once properly installed a new menu series is added to the core Word program making it simple to create formulas in any new or existing Word document. It includes Formula Builder, an intuitive wizard that makes creating formulas in Word easy! Additional tools let you copy a formula and paste to a cell or range of cells. You can't do that with the normal copy and paste functions. The program is ideal for CPAs, accountants, finance managers, financial analysts, tax managers, or anyone who presents financial data in Word documents. Formula Builder for MS Word is a great enhancement to Microsoft Word. You'll wonder how you ever did without it! Formula Builder for MS Word is part of the Financial Reporting Toolkit collection.




Software Information
System Requirements
Version:
1.0.1

Windows98/2000/XP/ME/NT/Vista
Pentium II CPU
Microsoft Word 2000, 2002(XP), 2003, 2007
256 MB RAM

License:
Free to try, $45.00 to buy
File Size:
125 KB
Screenshot :
View Screenshot
Rating :
Key Features:
Formula Builder
Formulas in Word are written the same way as Excel using the "A1" style for cell addresses. Word does not provide cell addresses in its core program. You have to figure out the cell address manually by counting the number of columns and rows. In smaller tables this isn't too difficult, albeit inconvenient. However, it can be a challenge in larger tables. If you miscount the columns or rows, you'll also get erroneous results. Word makes it impractical to use formulas, so most people don't. Formula Builder solves these problems. Formula Builder is a wizard that walks you through the steps of building a formula. Click on the cell address you want in your formula and Formula Builder automatically determines the cell address for you. If you need to add a range of cells using the SUM function just select the range and Formula Builder will compute the correct cell range address for you. The wizard includes easy access to any of Word's eighteen built in functions.
Copy and Paste Table Formula
This is one of the most exciting features of the program. Let's say you create a formula that computes the difference between columns B and C on row 3, and that you place that formula in Column D on the same row. The formula would be "=B3 - C3" with the results computed in cell D3. What if you want to duplicate that formula to a range of cells seven rows down in column D. If you used Word's standard copy and paste function to copy the formula from cell D3 and paste it to cells D4 through D10, all seven pasted formulas would be "=B3-C3". In reality, you want the formula on row 4 to be "=B4 - C4", the formula on row 5 to be "=B5 - C5", and so on. This is what Excel does automatically, which is updating cell addresses in the formula for their relative references in the formula. Word simply duplicates the formula as written. In this example, you would need to edit each individual formula to get them to compute correctly. The Toolkit's Copy and Paste Table Formula functions solve this problem. Select the cell containing the formula you want to copy and click the Copy Table Formula button. Select a cell or a range of cells you want to copy the formula to and click the Paste Table Formula button. The formula cell addresses will be automatically updated for relative references. This feature alone can be a major time saver.
Recalculate Formulas
Formulas in Word are stored in fields. Unlike Excel, Word does not automatically update formulas whenever the numbers change. They must be recalculated (by default, Word recalculates fields when a document is first opened). The easiest way to recalculate all fields (except headers and footers) is to select all (Ctrl + A) and hit F9 (recalculate). However, choosing this method to update fields may not be desirable if there are fields (other than formula fields) that you don't want to update. The Recalculate Formulas feature will recalculate only those fields that contain formulas. You can choose this option to recalculate a cell, row, column, table, or the entire document.
Convert Formulas to Text
Sometimes, you need to send your Word document to third parties, like attorneys, CPAs, edgarizing services, other managers, etc. You may not want to send a document containing formula fields. It's easy to convert formulas to text. The Convert Formulas to Text feature will convert only those fields to text that contain formulas. You can choose this option to convert a cell, row, column, table, or the entire document.
Display Cell Address
This can be a useful feature if you're checking formulas for accuracy. Just select a cell and click the Display Cell Address function.
Note: Formula Builder for MS Word contains macros, so you may need to adjust the Word macro security settings on your PC.
RELATED SOFTWARE DOWNLOADS FOR FORMULA BUILDER FOR MS WORD