VentaFax & Voice Home version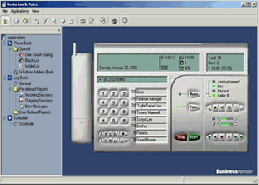 VentaFax is a full-featured computer fax software and answering machine software.
It sends and receives black and white or color faxes and turns your PC with a fax modem into a versatile answering machine with remote control and email integration. You can retrieve your fax and voice messages from any touchtone phone and also have your email messages and faxes forwarded to you as email attachments. VentaFax also supports Caller ID (if available) and allows you to record a telephone conversation in one click.
The user interface is friendly and intuitive, resembling a regular fax machine with buttons and controls. Additional features include support for voice mailboxes, automatic voice/data/fax mode recognition, distinctive ring and more. VentaFax is accessible from any Windows application, via a virtual printer driver.




Software Information
System Requirements
Version:
5.80

Windows 8/7/XP/Vista
Pentium or similar processor
512 MB RAM

File Size:
4.37 MB
License:
Free to try, $49.95 to buy
Screenshot:
View Screenshot
Rating:
VentaFax & Voice Home version Features:
Fax:
Send Facsimile Messages From Any Windows Application
You can fax a document from any Windows application by printing it on the VENTAFAX virtual printer that will appear in your system after correct installation of the program.
Manual and Automatic Facsimile Message Reception and Transmission
You can send and receive faxes manually with established connection, or transmit a fax with dialing a phone number automatically.
Fax Broadcasting
You can send a single fax to an entire list of recipients, rather than faxing each person individually (in the Business versions).
Built-in Scheduler
Scheduled delivery permits delayed delivery of single messages at an appointed time and/or for transmitting mass faxes and voice message to many recipients. In the Home version the schedule can contain no more than three tasks, but in the Business version the number of tasks is unlimited.
Customizable cover page
The cover page editor allows you to create or customize cover pages.
Convert incoming faxes to PDF documents
There is the possibility to automatically convert incoming faxes into PDF format.
Fax priority system
You can assign a priority to each outgoing fax. If several faxes are waiting to be sent, higher priority documents will be faxed first.
V.34 Fax (Super G3) faxing support
Ventafax is the one of a handful of software products that supports high-speed (up to 33600 bps) V.34 Fax (Super G3) protocol. Tested with MultiTech V.34 fax (Super G3) modem models and RockForce multimodem boards from MainPine.
Caller ID:
The Black-List and White-List Directories
These directories can be used for filtering incoming calls based on caller's phone number identification.
Phone Number Pronunciation
The phone number identified can be pronounced via a computer sound device.
Answering Machine Parameters Redefinition
You can use different answering machine greeting announcement and other parameters depending on the phone number identified.
Caller Data Display
Both phone number and caller's information from a VentaFax directory can be displayed in the special window.
Voice:
Telephone Conversation Recording
You can record a sound file of your telephone conversation on a hard disk.
Speakerphone (Speak On a Modem)
Speak on your voice modem instead of a telephone set. Some modems do not support this feature.
Announcement Before Sending a Fax
If program detects voice answer on sending out a fax, it can play a prerecorded announcement, for example, "Press the Start button on your fax machine now".
Automatic registration of telephone calls
The automatic registration of telephone calls mode allows either conversation recording or simply registering the start time and duration of a conversation in a log. Both incoming and outgoing calls can be registered.
Playing back text files using Speech Synthesis Engine (TTS)
The program can play via the modem in the telephone line or the computer's sound device both pre-prepared sound files (*.WAV) and text files (*.TXT or *.MIX). In the latter case the so-called text-to-speech (TTS) translation takes place.
Answering Machine:
Voice/Data/Fax Mode Recognition
On incoming ring, the program will try to detect whether it is an attempt to transmit a fax or a voice call. As a result, facsimile or voice message reception mode would be enabled automatically. In case of a data call detection, a call can be transferred to an awaiting application, such as Window Remote Access Server.
Remote DTMF Control
You can operate your answering machine remotely with tone commands, for example, to check new voice messages.
Voice Mailboxes Support
In VentaFax, you can create as many personal mailboxes as you wish (in the Business version). A mailbox can be accessed with an answering machine remote control commands.
Distinctive Ring
Distinctive Ring service if supported by your modem is available even in Windows 2000 and Windows XP!