WinFax PRO Macro for Word XP/2000/2003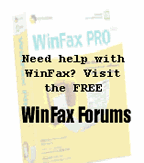 Send faxes directly from Microsoft Word 2000/XP/2003 and WinFax PRO with ease! Automatically retreive the fax number and name from your Microsoft Word documents, never having to retype a fax number in WinFax again!

You can also send bulk mail merge faxes using your Outlook contacts or other fax database listing. You get a fax icon on your toolbar and menu for one-click faxing directly from Microsoft Word.







Software Information
System Requirements
Version:
1.0

Windows 8/7/XP/Vista
Word 2000 (Office 2000), Word 2002 (Office XP), Word 2003 (Office 2003)
WinFax 9.0, 10.0x, WinFax Basic Edition, TalkWorks PRO
Pentium II CPU

File Size:
226 KB
License:
Free to try, $44.95 to buy
Rating:
WinFax PRO Macro for Word XP/2000/2003 Features:
WinFax icon on the toolbar and within the File menu. One click faxing.
Define Word styles for single page faxing. You can apply styles to a Word document, the macro will automatically retrieve the fax number and name styles and populate the Send dialog box automatically.
Support for Internet faxing with Concord Faxing service. You can now send fax merges via the Concord Internet Fax service!
Compatible with Word 2000, Word XP (2002), Word 2003 and Windows XP. Eliminates VBE6.DLL error messages when starting Word 2000.
Support for the Photo Quality fax printer driver with WinFax PRO 10. Send your fax merges using the highest quality available with WinFax PRO 10.
Macros are secured with a Digital ID to prevent any macro tampering without your knowledge, and will support the High Security Level in Office 2000,XP,2003. No annoying warning dialog boxes, and does not expire after one year.
Compatible with WinFax Basic Edition included with Norton SystemWorks and WinFax PRO versions 8.0x, 9.0x and 10.0. Also compatible with TalkWorks PRO versions 2.0 and 3.0.
NOTE: Requires one of the versions of WinFax/TalkWorks listed above.