Royal TS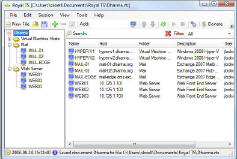 Royal TS is a simple, yet powerful Remote Desktop and Hyper-V client based on Remote Desktop Protocol allows you to connect to other Windows machines using RDP* (Remote Desktop Protocol).
Enjoy a simple and easy way to organize, connect and switch between remote desktops. If you are a system engineer or administrator responsible for managing multiple servers, Royal TS will make your life much more easier.
Royal TS allows you to organize multiple remote desktop connections in one single file.
You can put one or more connections into a folder to categorize your connections. Sort your connections and/or folders in the tree automatically or manually to keep things organized the way you want. You can also bulk-edit and bulk-remove multiple items at the same time.





Software Information
System Requirements
Version:
V2

Windows 8/7/XP/Vista
.NET Framework 3.5
Remote Desktop Connection

File Size:
20.1 MB
License:
Free to try, $37.20 to buy
Screenshot:
View Screenshot
Rating :
The Royal TS Overview:
Get Session Information
Royal TS can retrieve the current user sessions from a remote host*. For system engineers this feature is very useful, as it shows if there is already someone connected, or left a session disconnected.
Further you can also send a message to an existing session or even reset a session (which is basically a forced log out). This is handy because for remote administration RDP allows only 2 concurrent sessions and 1 console session at the same time.
Protect Your Files
You can store username, domain and even the password for each connection. When credentials are provided you can also enable "Autologon". This way you just double-click a connection or select "Connect" and you will be logged in automatically on the remote machine.
To provide a secure way to store your credentials you have the possibility to apply strong encryption to your stored passwords or even encrypt the whole file content.
Protected documents can only be opened when you provide the password you used to encrypt the document.
Remote Desktops Embedded or in an External Window
You can use Royal TS to open a remote desktop session in an external window or open a session embedded in the application window. You can control this behavior for each connection individually.
Royal TS keeps track which connection is active by showing a green connection icon in the tree.
Clicking an active connection brings up the connection in the application window, or - in case the connection is configured to use an external window - brings up the external window.
The Royal TS Features:
Tree View
Sort Folder Items, Connection Items or all Items alphabetically ascending as well as descending.
You can also control the sort order of the items by moving them up (CTRL+D) or down (CTRL-U) manually to keep them in the order you want.
List View
Use the list view to search for connections as you type and filter the list to show only connected sessions, disconnected sessions or both.
Selecting multiple disconnected items allows you to bulk-remove or bulk-edit the selected items.
Information Page
The information page not only shows you the settings of your current selection, you can also see who is already logged in or who left disconnected sessions.
You are also able to send messages to a remote session and even reset a session and force a session to be logged off.
Tasks
Execute custom commands on one or more connections. Pass connections properties dynamically to the command.
Royal TS ships a few sample tasks out of the box (like ping) but you also can create your own tasks within Royal TS.
Bulk-Edit
Using bulk-edit you can choose which of the sections (Credentials, Display, Advanced and Folder) should get the new configuration.
The list can also be used to remove more than one connection at once.
Duplicate Connections
Using the duplicate function you can "clone" a selected connection.
The connection properties dialog of the "cloned" connection will open immediately, so that you can change the connection name and host.
Auto Logon
Save username, domain and password to enable automatic logon.
Smart Size
Smart size scales down the remote desktop contents instead of displaying scroll bars when the window is resized.
Window Mode
Each connection can be configured to be embedded in the main window of Royal TS or to be opened in a seperate window.
Customize User Interface
Show or hide the toolbar, statusbar or the selection label. Minimize all windows to the Systray - including optional password prompt for protected documents.
Different Connect Options
Ad-hoc connect to console menu item, even when the connection is not configured to and ad-hoc connect without autologon for connections configured to use auto logon.
Strong Industry Standard Encryption
Password protect and encrypt the document where an indicator shows the quality of the password. Optionally provide a read-only password which allows you to use the document. In read-only mode the document cannot be changed and the passwords cannot be displayed.
Autostart
Specifiy a file to load automatically when the application starts up.
Command line switch: /connect:"connection_name" allows you to automatically connect to the specified connection.
heck for Updates
Royal TS optionally notifies you when a new version is available. You can also check manually for updates anytime using the "Check for Updates" menu command.
Quickly add new Items
Enter a hostname or IP address in the toolbar text-box labeled as "Add:" to quickly add new connection items to your document. The new item will be placed in the folder which is currently selected. Connection name will be the hostname or IP address you entered. The connection settings will be the configured default settings
Logging
Royal TS logs activity and errors. To open the log, click the "Show Log" command in the "View" menu.
Advanced Options
Control which RDP port to use, wheter to connect to the console session (similar to the /console or /admin switch from mstsc.exe) and wheter the windows keys should be redirected to the remote session or not. Also control redirection for audio, disk drives, printers, ports and smart cards.
Additional options: Use Terminal Services Gateway Server, caching, background input, auto reconnect, allow wallpaper and themes, desktop composition (Aero)* and font smoothing*.
RELATED SOFTWARE DOWNLOADS FOR ROYAL TS