BitSlice Standard Edition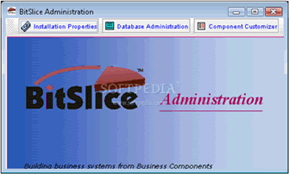 BitSlice is a suite of Business components and reusable software components that can be used to provide ready functionality to an application. Business functionality that is common to a wide range of applications, has been packaged into Simple and Easy-to-Use Components, higher level Component Assemblies and Component Sub-systems. The components encapsulate cohesive sets of business computations, validations, data retrieval, data definition, generation and maintenance facilities. These components can be easily plugged into an application thereby saving many lines of code. With the help of these components, the software development process gets a headstart and business applications can be built quickly and efficiently. The application becomes more reliable, robust and of higher quality. The BitSlice component set can be used for building business applications in areas such as Trading, Manufacturing, Banking, Health Care, Accounting and many other business domains. BitSlice components have been used in various domains and have been extended to cater to special application requirements. Productivity improvement and effort reduction of upto 30% have been measured in certain project environments! The yearly subscription plan includes the entire BitSlice 4.1 component suite set to expire a year from date of delivery of software.




Software Information
System Requirements
Version:
4.1

Windows NT4/2000/2003/XP and Vista
Pentium II CPU
128 MB of RAM

License:
Free to try, $95.00 to buy
File Size:
7.1 MB
Rating :
Key Benefits and Features of BitSlice:
Significant Reduction in Software Development Cost
Significant increase in Quality and System Reliability
Reduced Maintenance Cost
Provides an Infrastructure of Business Data and Business Functionality for any Application Development
Removes the burden of Analysis, Design and Development of Module(s) related to Core Information altogether from the Development Process
Reduced Project skill requirements in the areas of Business Analysis, Design and Specifications
Possible to build systems with high degree of flexibility, usability and robustness with no additional burden in terms of cost / time, for e.g., flexible levels of Business Analysis is possible since all core Information will be well structured and codified
Central Repository of Core Business Information and processing leads to reduced data Redundancy amongst various Enterprise Systems developed by different departments
Robust abstractions (generalizations) built for handling 'Core Business Information' by taking full advantage of O-O design techniques. This has led to Quantum reductions in the lines of code
All components can be extended for additional functionality since they have been built using O-O techniques .
RELATED SOFTWARE DOWNLOADS FOR BITSLICE