Drill-Down Tally 2007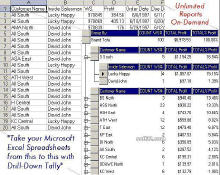 Drill-Down Tally is the best report writer for any business. Just 3 easy steps: define groups, calculations and details THAT'S IT! It will supercharge your Microsoft Excel, Microsoft Access, QuickBooks, ACT!, ODBC, csv and text data files overnight. Gain instant control over your data now with unlimited on-demand reporting. Any employee can create as summarized or as detailed reports faster than Crystal Reports.
Start your own business, enhance your current business or gain new clients with Drill-Down Tally. This product gives you the competitive edge. IntelliRel provides technology focused on great design yielding outstanding cost-effective results. We have developed and redesigned many databases generating immediate results for biggest homebuilder and biggest pool builder in Arizona. As an added bonus, we can supercharge your business relationships overnight, with our exclusive ad-hoc report writer (Drill-Down Tally 2005) leaving your competition in the dust.
With Drill-Down Tally you can group by employees, salesman, categories, locations, and/or regions. Utilize your currency fields as sum total calculations and/or use id fields as count calculations. Choose any other fields you don't group as details to support your summarized group calculations. You can have any number of group levels to drill-down on. Arrange them in any order you like. It's all up to you. You will have summarized totals and details for every level as you drill-down on each group. You can filter for records last week, month, and year or do a five-year trend analysis on your date fields. Filter on any or all fields you need too. Basically you have an unlimited number of report combinations right now at your fingertips without the need of a programmer. Stop the guesswork and get accurate data now.




Software Information
System Requirements
Version:
4.144

Windows 98/ME/NT4/2000/XP/Vista
256 MB RAM
Pentium II CPU

File Size:
24.8 MB
License:
Free to try, $199.00 to buy
Screenshot :
View Screenshot
Rating :
Best Features of Drill-Down Tally 2007:
Reporting Views. One of the best features of Drill-Down Tally is changing the face of reporting possibilities with its newest feature "Reporting Views". This technology will change how data intelligence is analyzed and processed in the 21st century.
Charting. You can now design unlimited charts to your reports seamlessly with Drill-Down Tally. Quickly create and access all of these familiar charts within the same report with our newest charting innovation.
New Educational Edition License Model. IntelliRel has done it again. Revolutionizing how software is purchased and utilized. Drill-Down Tally now has the capability to be licensed under a Training Licensing Model. Under the training license model (Educational Edition) you pay for 1/2 hour or more of training and receive a software license that includes FREE lifetime upgrades and updates.
New Custom Values Wizard. Added Custom Values Wizard which allows you to combine several values into one of more custom values. You can easily group your data into Quarters (1st, 2nd, 3rd or 4th) of a year. You can group your data into Last Week and Prior Week and see the difference between the two weeks. You can create groups of great customers, good customers and those not-so-good customers based on total profit. These are just a few of the many thousands of possibilities that the wizard will effortlessly create for you.
Create Linked Queries with Excel Sheets. Added the ability to link/merge queries between Excel workbooks, sheets and range names. If you have one or more common fields in both worksheets, you can merge them into one dataset and slice and dice it just like any other dataset.
Enhanced Query Builder functionality. You can now visual design and merge two or more tables and queries into one dataset. Quickbooks users can export more than one custom report from their accounting software and then join them together into dataset to create unlimited reports from. Join .dbf, Access, Excel text files and ODBC data together in one query to design reports with. Your reporting playground just got a little bigger with this capability.
Report Definition Wizard. One of the easiest features of Drill-Down Tally is that simply makes it easier to create a report. Our wizard will help any novice create a new report in 3 easy steps. The wizard gracefully generates a new report in blinding speeds.
Drill-Down Reporting. One of the coolest features of Drill-Down Tally is that it automatically creates a report for first group in your drill-down. The first report contains information pertaining only to your first defined group level. The second report contains information pertaining to all group levels and their details.
Auto-Design. One of the best features of Drill-Down Tally is that it allows any level of user to experiment very easily by quickly changing the field settings in the Report Definition tab. As you change these settings, you immediately see your results in the Drill-Down tab. Thus, allowing you to create an unlimited number of reports from one recordset.
Group Calculation Groups. Another awesome feature of Drill-Down Tally is that you can create a group from your aggregate group calculations. This is a powerful addition to the Drill-Down Tally feature set. This means you can create drill-down report(s) containing information pertaining to several different revenue levels. You could put them in groups of excellent, so-so or poor based on the profit your company receives and drill-down on each of them.
Gateway File Setup. Create reports from Microsoft Excel or Access, QuickBooks, ODBC, ACT!, Text or CSV data files. You can even design reports with exported data from Google, Amazon, eBay. Gain direct access to Microsoft Excel data via the Sheet Name or Range Name with your favorite worksheets. This is a great productivity tool for any business wanting more detailed reporting from your data storage files.
Screenshot Demo. A demo was added to the help menu to help users get more familiar with the reporting capabilities of Drill-Down Tally. It includes a user controlled slide show creating a simple tabular report to designing an advanced 5 year trend analysis.
Tally FlexMart. Creating a Tally FlexMart is an important part of Drill-Down Tally. It allows you to wrap up a report definition and it's underlying data into a mini application. After you create the Tally FlexMart you can send the file to any other licensed owner of Drill-Down Tally. They can now create as many reports as they want from the data you send them.
Auto-Update. The software package allows you to update/upgrade the software package with minimal effort. Unpack updates to a central location and all other users can automatically pickup the necessary changes the next time they open Drill-Down Tally.
Private Label Product Branding. Drill-Down Tally has the capability to be branded under your product name, icon, and company as the maker of the product name. For more information Click Here.
FREE Unlimited Live Help Online. Last but not least free unlimited online support. Get your questions answered online with our Live Help Online feature. You're up and running in a heartbeat with this added benefit. Look for menu option Live Help Online Now.
Additional Drill-Down Tally Features:
Report on Microsoft Excel/Access, QuickBooks and ODBC
Report on Virtually Any Open Formatted Data Source
Link 2 Excel workseets together on common field(s)
Automatically Creates Grand Totals
Automatically Creates Drill-Downs on All Group Levels
Automatically Creates Calculations on All Group Levels
Automatically Redesigns Report After Every Change
Automatically Creates a Separate 1st Group Level Report
Create Unlimited Amount of Reports/Views from One Dataset
Create Unlimited Amount of Datasets
Create Your Own Calculated Fields and Sort on Them
Sort Ascending/Descending on Any Non-Memo Field
Choose Report Fields from Dataset Pulldown List
Filter on Any Field from Dataset Pulldown List
Filter on Resulting Calculated Group Level Totals
AutoRun Filter when Report Opens
Save Report Definition for Easy Retrieval of Your Data
Save Report in Common .PDF Format to Store or Email
Export to Microsoft Excel (Pivot Table)
Save Tally FlexMarts for Your Clients to Report From
RELATED SOFTWARE DOWNLOADS FOR DRILL-DOWN TALLY 2007 (ENTERPRISE EDITION)