MergeXL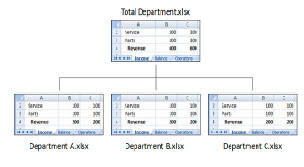 MergeXL merges entire Excel workbooks and places their data into any number of new, merged workbooks without linking formulas, a database or macros. Aggregate the all the data in corresponding spreadsheets across any number of workbooks and create new workbooks holding their consolidated data in the same spreadsheets.
The Excel workbooks are organized using a simple Explorer-like tree structure, and are edited using the mouse. Multiple structures can add up the same workbooks differently. Reporting across Excel workbooks, input-level and merged, can be done by clicking check boxes. There is no code or any macros placed into the workbooks at all.
MergeXL features the ability to edit one workbook and have all of the workbooks changed. Editing workbooks is speedy, uniform, and minimizes errors from repetition. Data entry to multiple workbooks from a single text file is accomplished using the user's own account and entity codes. Data input errors can be all but eliminated. MergeXL can verify that all workbooks are the same, and can identify unauthorized changes. All the workbooks in an application can be conformed to a master workbook, while still having designated exceptions. Add, slice, and report data across workbooks with an unprecedented ease.
Software Information
System Requirements
Version:
9.0

Windows 8/7/XP/Vista
512 MB RAM or more
Intel/AMD at 2000 GHz or higher

License:
Free Trial , $99.00 to buy
Download Size:
353 KB
Screenshot:
View Screenshot
Rating:
The Features of MergeXL :
Plain, old workbooks
MergeXL takes the data from ordinary Excel files and places their merged data into new, ordinary files. No additions or links are used. As many files as you like. All of the Excel workbooks remain free standing, independent files.


Add them up
Add the data in all of the cells in all of the spreadsheets across any number of workbooks in one step, without all the drama.


Aggregation to consolidation
The ability of MergeXL to carry the results of some calculations forward into merged workbooks instead of the formula, the first step in real consolidation is effected. Multiplications or cells linked within a workbook show the correct result no matter the level of consolidation viewed.
It also allows a workbook to be designated to hold credit values and offers a protocol for automatic inter-company eliminations. These are further steps in financial consolidation.


A company structure
Excel files holding input data and those holding merged data are assembled just like the files and folders in a tree structure. An application can have multiple structures adding up the same files in different ways.


Flexible and scalable
Excel files, both source workbooks and merged workbooks, can be added and moved around in a few seconds. Making changes or adding new workbooks is a snap.


Spreadsheet to spreadsheet
The corresponding spreadsheets in each workbook are added together, with the merged workbooks having the same spreadsheets of the source workbooks, but holding the merged data.


No limits
There can be any number spreadsheets in the files, any number of workbooks in a structure, and any number of merged levels, nested to any depth required.


A simple structure
The yellow folders above are Excel files into which ExcelMerge places the merged data from the Excel files beneath them. These folders represent levels of consolidation.
RELATED SOFTWARE DOWNLOADS FOR MergeXL