Full Convert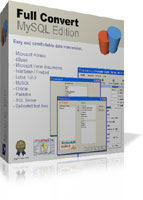 When you need comfortable way to transfer data from one database to another, Full Convert proves itself as a valuable tool for the task.
Full Convert is application which converts your whole databases with ease. When you need to upgrade your dated database system or replicate it for the web, Full Convert shines. It's unparalelled ability to browse the target database's objects and tables and perform powerful recordable actions on many objects at once differentiates it from competition. And,of course, there is speed and precision - Full Convert is built on direct database access components tailored for each database independently for maximum speed and reliability.





Software Information
System Requirements
Version:
2.1

Windows 9x/Me/NT/2000/XP/2003
Pentium or similar processor
64 MB RAM

File Size:
3.08 MB
License:
Free to try, $99.00 to buy
Download:
Click to Download
Rating:
More Screenshots



Click each image to enlarge!
Supported source databases:
Microsoft Access, dBase, FoxPro, Microsoft Excel documents, Interbase / Firebird, Lotus 1-2-3, MySQL, Oracle, ODBC sources, Paradox, SQL Server, Delimited text files
Supported target databases:
MySQL, SQL Server, Oracle, Access ...
Benefits:
Convert instantly - setup connections, choose tables and go!
Convert data, indexes and constraints (depends on database)
Browse through your target database and perform advanced actions
Conversion can be cancelled anytime
All errors are logged
Invalid field values are converted as nulls and logged on which row they occured - you can convert huge tables without stopping because of few invalid fields
Examine tables' data in advanced grid, memo fields can be examined in multi-line view
Multiselect - perform actions on multiple objects at once
View all SQL commands issued to database during conversion process for easy revision
Change structure of database with ease

extract columns and data to another table with all links preserved.
merge tables.
drop, rename, modify columns' properties.
create indexes.
drop unused tables.
drop unused columns.

Execute freeform SQL.
See record counts of tables while you work.
Command-line support.
All your actions are recorded and stored in encrypted session file - on next conversion you can choose to simply convert, or to convert and execute all recorded actions - you can automatically convert and change structure to desired with single click.