Golden Eye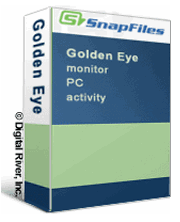 Have you ever wondered what your children are doing on the Internet? Whom they have talked to and what pictures they have seen?
Are you suspecting your husband or wife is cheating on you? whom they emailed to? what movies they have seen? whom they have chatted with?
Do you want to know what your employees are doing during work hours? Here is a total solution. Golden Eye is a powerful spy tool and can tell you what and when they are really doing!
Golden Eye is designed to monitor and record all the activity on your computer. with its bulit-in spy components, It can record keystroke, visited websites, window title,and even screenshot.
Golden Eye works like a surveillance camera pointed directly at your computer monitor, monitoring and recording anything anybody does on your computer, and storing this in a secure area for your later review. With the full detail and searchable Interactive and Html report, you can easily know how your computer is being used or what is being done on your computer.

Buy Now $29.95 USD
Software Information
System Requirements
Version:
4.10

Windows 8/7/XP/Vista
512 MB of RAM

File Size:
1.54 MB
License:
$29.95 to buy
Rating:
Key Features:
Network Supported
Golden Eye has a flexible data storing method, you can store it in a secure folder on your computer or stores the log files over a corporate or small business network, which lets you to easily monitor other computer on the network and read the report on your own computer.

Invisible Mode
Run Golden Eye totally stealth, Invisible mode ensures that Golden Eye is completely hidden from everyone except you. Others can not see it in the Windows System tray, desktop, task Manager or in the Add/Remove in Control Panel. You can call it up with Hotkey you choose. Only you can launch or delete Golden Eye.

Normal Mode
Like a normal application, the icon of Golden Eye will appear on program menu, desktop, you can use normal mode for testing and learning. you can easily switch between invisible/normal mode.

Password Protection
Golden Eye can use password protected to prevent monitoring termination and option changes.

Log File Option
you can set Golden Eye to clear your monitoring logs after the log files in the log folder exceed a set size. This prevent it using too much of the disk space.

Hotkey
Use the hotkey to show Golden Eye when it hides, you can set the hotkey you like.
More Screenshots - Click each image to enlarge!
RELATED SOFTWARE DOWNLOADS