Advanced Administrative Tools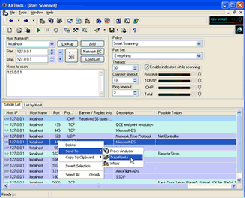 Have you been port scanned lately? Completely ignoring network security is not smart and ignorance isn't exactly bliss. If you access the Internet via a cable modem, DSL, or even a dial-up connection, someone is always knocking on your virtual front door, giving your system the once-over. Protect your data, privacy and valuable computer system with Advanced Administrative Tools.

Advanced Administrative Tools is an essential security diagnostic tool for everyone who wishes to protect his computer and the data it contains.
Software Information
System Requirements
Version:
5.92

Windows 8/7/XP/Vista
Internet connection or TCP/IP enabled LAN.
Pentium processor
64MB RAM

File Size:
3.00 MB
License:
Free to try, $99.00 to buy
Rating:
Advanced Administrative Tools includes the utilities:
Port Scanner with an internal database of ports (officially assigned, unofficially used, or currently affected by network Trojan programs) that analyzes hosts and the different services that have been started on them. Its comprehensive scanning engine gathers all the information about the services, threads, etc. The Advanced Administrative Tools Port Scanner accurately determines the active ports/services using TCP/UDP port interrogation.
Proxy Analyzer tests lists of proxies and/or verifies a list of addresses on present proxy servers. It provides the most detailed information obtainable about the proxy itself, including, its headers, locations etc. It is a fully loaded tool for managing proxy lists (with anonymous proxy rating).
RBL Locator (RealTime BlackList Locator) is a special tool, designed to quickly search for an IP address in DNS-Based spam databases. RBL Locator checks an IP address against the most known blacklists. The Advanced Administrative Tools RBL Locator will help you to determine if you're listed as a "bad actor" within any of the shared blacklists.
Trace Route - shows you the path a packet sent from your machine to some other machine on the network takes as it hops from router to router. It will show you the IP address and the actual name of each router, line-by-line.
Email Verifier - is your unique solution for the "message delivery error". You don't need to disturb your clients and friends anymore to verify whether their e-mail addresses are still valid or not. Email Verifier connects directly to their SMTP server and checks it for you. Nothing is sent to the recipient.
Links Analyzer - a new state-of-the-art utility that scans all your URLs and IE Favorites and notifies you when a link has been changed or has become invalid. It also doubles as a navigation tool and makes it very easy to find what you are looking for eliminating the need to search inside folders.
Network Monitor - shows you an extremely large amount of supplementary information about your outbound and inbound network connections, additionally, Advanced Administrative Tools Network Monitor maps open ports to the owning application (for Windows NT/2000/XP only). Network Monitor is useful in diagnosing networks and monitoring your computer's network connections.
Process Monitor - if you want to get a small bit of information on the processes and applications loaded into your PC's memory, including sniffers and hooks, look carefully in Advanced Administrative Tools Process Monitor...
Whois - a useful network information utility that allows you to find out all the available information about IP addresses, host names, location, NSP name, administrator and technical support contact information of any Internet address.
System Info - collects and displays your system configuration information. Support technicians require specific information about your computer when they are troubleshooting your configuration. You can use System Information to quickly find the data they need to resolve your system problem.
Resource Viewer is intended for viewing the resources of executable files (with the extension .exe and .dll). It displays comprehensive information about program resources including dialogs, icons, strings and more. Resource Viewer can also be used to save resources of any selected module on your hard disk.
Registry Cleaner is designed to clean up unnecessary registry entries in your registry. Using Advanced Administrative Tools Registry Cleaner increases your computer performance, speeds up the loading of operation system and reduces the number of failures.
Advanced Administrative Tools major features:
Multithreading, providing you high performance on checking.
Every scanner can obtain information from a single host, or from all hosts in range IP addresses as well as work with list of hosts and IP addresses.
All information shown by the program may be saved to *.txt files.
Highly intuitive interface provides easy operation for users.
More Screenshots - Click each image to enlarge!
RELATED SOFTWARE DOWNLOADS