Spyware Doctor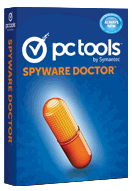 Spyware Doctor is a top-rated malware & spyware removal utility that detects, removes and protects your PC from thousands of potential spyware, adware, Trojans, keyloggers, spybots and tracking threats. Protect your privacy and computing habits from prying eyes and virtual trespassers with the help of Spyware Doctor.

Spyware Doctor provides three-way spyware protection for your PC through real-time threat blocking, advanced system scanning and immunization against known browser infections. This is one of the many reasons why the award-winning Spyware Doctor has been chosen by millions of users to protect their PCs against spyware, adware, trojans, keyloggers, spybots and other tracking threats.
Software Information
System Requirements
Version:
7.0.0.538

Windows 7/Vista/XP/2003;
Pentium II processor or better
64 MB RAM

File Size:
33.0 MB
License:
Free to try, $26.95 to buy
Screenshot:
View Screenshot
Rating:
Editor's Review
Spyware Doctor is the best shareware of anti-spyware utilities. Comparing with many other spyware removal programs of this kind, Using fast, smart and powerful protection against spyware, adware, and other unwanted programs. Spyware Doctor is the best choice for protecting yourself and your PC from spyware" It's a must-have tool for all computer users, no matter a beginner or an experienced user. Spyware Doctor is quality enough for a 5-star award according to BestShareware.Net's strict rating rules.

The best shareware for anti spyware utilities.
Why you need Spyware Doctor ?
Did you know that when a PC is infected with spyware that every keystroke, every website and every conversation could be recorded or monitored by the people or companies that may have secretly installed software on your PC. The consequences of spyware and adware infections can include banking and identity theft, unusual computer problems, slow Internet access, changed browser homepage, search pages or favorites, and excessive numbers of adware generated adverts.

Anti-virus software and firewalls do not fully protect your system against the majority of spyware and privacy threats. Because spyware is commonly bundled with software downloads, attached to e-mails, or transmitted through networks it can appear to be legitimate software, but once installed it can be nearly impossible to detect and remove without the help of a dedicated spyware removal tool like Spyware Doctor.

When you consider the amount of valuable and confidential personal information stored on your PC, including credit card and banking details, private e-mails and documents, shopping and browsing habits, the risks of having software intruders snooping on your computer activity are obvious. Spyware protection should be an essential part of your protection to defend your privacy and computing habits from prying eyes and virtual trespassers, download Spyware Doctor and check your PC now.
Spyware Doctor Features:
Detect and remove spyware, adware, malware, Trojans, keyloggers, spybots, adbots and trackware
OnGuard runs in the background to monitor and protect your PC from browser infections and tracking cookies
Immunize your system against more than a thousand known web-browser hijackers (BHO) and ActiveX threats
Real-time protection including defense against known phising attacks, popup blocking and malicious site guard
Intelligent and deep scanning options allow you to thoroughly check your PC for Malware infections
Receive frequent live updates to detect and guard against new threats
Spyware Doctor Benefits:
Spyware Doctor has received numerous 5-star ratings, Editors' Choice and other awards from independent Windows® security experts around the world.
Spyware Doctor provides 3-way protection against spyware; real-time threat blocking, in-depth system scanning and Immunization against Spyware infections; one method by itself is not enough.
Spyware Doctor has regularly updated scanners that are extremely fast and accurate at detecting the latest types of infections.
Spyware Doctor includes the most frequently updated threat database to capture the latest infections. You will not be waiting weeks between updates.
Spyware Doctor will "immunize" your system against thousands of known malicious browser hijackers (BHO) and ActiveX threats.
Spyware Doctor actively blocks threats from being installed rather than only removing them after they have installed and already caused damage.
PC Tools and WinGuides have been recognized world leaders in Windows® registry and security since 1998.
PC Tools employs a dedicated team of security experts and malicious code researchers to update and support Spyware Doctor.
PC Tools runs a Malware Research Center that has automated tools to constantly search the Internet for the latest threats, 24 hours a day, 7 days a week.
Spyware Doctor protects against more than just Spyware. It takes care of Adware, Keyloggers, Malware, Trojans, Hijackers and other threats.
Spyware Doctor does not use older out-dated anti-virus techniques. Spyware is a modern threat and requires specialized methods for detection and repair.
Spyware Doctor is downloaded over 500,000 times per week, a testament to its popularity and recognition as a leader in Spyware protection.
Spyware Doctor is constantly being enhanced to cater for new threats, for example it includes a Popup Blocker and phishing protection at no extra cost.
RELATED SOFTWARE DOWNLOADS