Geek Superhero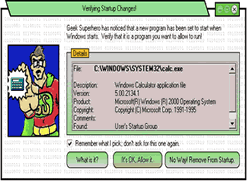 Many people have a computer expert friend. A friend that knows what settings you really need to change; they know what to check on your computer to protect you from bad programs; they know what to do to fix problems; they know about useful tools to help you keep your computer running at its best; they know about Phishing scams and how to avoid them.

Geek Superhero is that friend for everybody! It watches dozens and dozens of important settings on your computer and warns you if any program has changed them. This catches many of the changes a virus, worm, or trojan program will make to your computer and lets you immediately fix them back! Plus Geek Superhero includes a lot of other useful features like a Popup blocker and more!

Geek Superhero watches your computer for changes, immediately notifying you when a change is made to confirm you want to keep or reject the change. This saves you from lots of headaches.




Software Information
System Requirements
Version:
1.3a

Windows 8/7/XP/Vista
Pentium or similar processor
512 MB RAM

File Size:
2.56 MB
License:
Free to try, $25.00 to buy
Rating:
Geek Superhero Benefits:
Geek Superhero protects your web browser's home page and other important settings. It lets you easily fix things if your browser has been taken over by a hijacker, and watches for hijackers trying to invade.
Helps your computer start faster by keeping unnecessary things from starting every time you start Windows.
Keeps you from having your modem's phone number changed to dial expensive pay-per-minute numbers when connecting to the Internet!
Catches many of the changes a virus, worm, or trojan program will make to your computer.
Prevents programs you install from adding new icons or favorites that you don't want.
In my testing, installing America Online's latest software adds 2 programs to run every time Windows starts, adds 5 icons on your desktop, and adds 2 icons in the Quick Launch area. All without ever asking you what you want. Geek Superhero catches all those changes and lets you choose to keep or reject them.
And many more. There are dozens and dozens of different settings that Geek Superhero watches to protect you.
More Screenshots - Click each image to enlarge!
RELATED SOFTWARE DOWNLOADS