McAfee VirusScan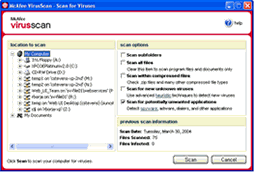 VirusScan is an easy-to-use antivirus solution that ensures your PC is protected from viruses, worms, Trojans, spyware, adware, web dialers, and other malicious threats. VirusScan stops threats coming from email, instant messaging, Internet downloads, shared files, and more.
Easy to use and always on guard, VirusScan automatically checks for virus updates and software updates (included FREE with your one-year coverage), so your protection is always up-to-the-minute. And it's from McAfee Security, the most trusted name in online security.
Proven security that protects against viruses and spyware, McAfee VirusScan detects, blocks, and removes viruses and spyware, that may result in the loss of your irreplaceable documents, such as digital photos, family movies, and financial spreadsheets, identity theft and slower PC performance.



Order Now $39.95 USD
Software Information
System Requirements
Version:
10.0

Windows 98/Me/2000 pro/XP
300 MHz or higher
Internet Explorer 5.5 or later
64MB RAM

File Size:
9.54 MB
License:
Free to try, $39.95 to buy
Screenshot:
View Screenshot
Rating:
Key Benefits of McAfee VirusScan :
Automatic spyware and adware detectionidentifies, blocks, and removes identified potentially unwanted programs, such as spyware and adware, or other programs that jeopardize your privacy, identity or simply reduce PC performance.
Automated, daily signature updates help keep your PC protected from recently discovered virus and spyware threats.
Comprehensive protection
McAfee VirusScan detects and removes viruses, worms, Trojans and spyware from inbound and outbound attachments, program files, shared files and more.
Automatic file protection
VirusScan provides continuous protection and automatically scans for viruses when you save, modify and access PC files and programs.
Reduces manual tasks
Computer users are bombarded by pop-ups, warnings, and reminders. VirusScan is designed to reduce the number of tasks that require your interaction; and it displays messages only when urgent security-related information is available for your PC.
Easy to use
VirusScan can be accessed directly from Windows Explorer so you can quickly scan files from the familiar Explorer screen. And, you can scan e-mail and folders directly from MS Outlook.
Reliable virus protection
Virus protection is updated automatically when you are connected to the Internet.
Advanced screening options
VirusScan provides many advanced options including a quarantine feature for suspicious files, and an easy method for creating a rescue disk to clean boot sector infections.
Proactive security information
VirusScan integrates with McAfee Security Center to provide up-to-date security information during virus outbreaks.
McAfee VirusScan Features:
E-mail Scanning
VirusScan automatically scans inbound and outbound e-mail and attachments for most popular e-mail clients, including Microsoft Outlook, Outlook Express, Netscape Mail, Eudora, Pegasus, and others.
Instant Messenger Scanning
VirusScan scans instant message attachments sent through popular instant messaging programs.
Spyware Detection
VirusScan can detect potentially unwanted applications like spyware, adware, web dialers and more. VirusScan detects these applications to protect your data and privacy.
ScriptStopper
Many of the fastest spreading viruses, like I Love You, use scripts to infect your PC. ScriptStoppper detects new malicious threats and stops them from infecting your PC.
MS Outlook Scanning
VirusScan provides scanning of e-mails and e-mail folders directly from MS Outlook so you can initiate scans using the familiar MS Outlook e-mail interface.
WormStopper
The majority of new viruses are spread through email. The VirusScan WormStopper eliminates new mass-mailing worms by detecting activity that might indicate a new, undetected worm is active on your PC.
Hostile Activity Watch Kernel
The Hostile Activity Watch Kernel constantly monitors your computer for virus-like activity providing even more protection for Internet-based threats. It looks for events that may indicate new mass-mailers, or attachments with double file extensions. By monitoring for these typically malicious activities, HAWK notifies you and lets you take action before damage occurs. HAWK saves you time, and possibly data and money, that could be lost by virus infiltration.
PDA Synchronization Support
VirusScan 8.0 checks all entry points to your computer including the synchronization process with your PDA. By eliminating threats that could be transmitted during PDA synchronization, the integrity of your system cannot be threatened by the PDA entry point and your system is more secure.
Virus Map and Information Library
You can see how the latest threats are infecting computers worldwide, and then research them via direct links to the McAfee Virus Information Library.
RELATED SOFTWARE DOWNLOADS