Easy Mail Plus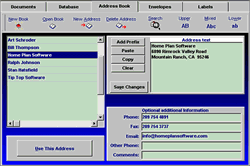 Easy Mail Plus is a mailing software including mailing list software, mailing address software, and mailing label software.
Type your message, and then just a few mouse clicks can fax it, print it, email it, prepare an envelope and print a label.
Best of all, leave your printer settings alone! For mailing, just stick an envelope where the paper goes and let Easy Mail Plus handle the rest. Or put a sheet of labels in the printer and print on the labels you need right now. Use the rest of the label sheet another time.
Built-in importing uses easy drag-and-drop technology to make it a snap to create aAddress Files from your existing data files.




Software Information
System Requirements
Version:
2.2

Windows 8/7/XP/Vista
Pentium or similar processor
512 MB RAM

File Size:
5.0 MB
License:
Free to try, $49.95 to buy
Screenshot:
View Screenshot
Rating:
Easy Mail Plus Features:
Envelopes
Use our predefined envelopes and labels (metric and US) or configure your own.
Use one of our logos, or any BMP, GIF, JPG, WMF, ICO image.
Drag and drop addresses, logos, barcodes, etc.
Put post office barcodes on envelopes and labels.
Print to the entire list, one at a time, or to selected addresses.
Labels
Print just one label or a few labels per sheet.
Print a full sheet of the same or different addresses.
Drag and drop text and graphics positioning on envelopes and labels.
Print pre-defined labels for diskettes, cassettes, video, name tags, etc.
Full size or mini sheets supported.
Documents
Full featured word processing editor.
Set Margins, tabs, borders, tables, insert graphics.
Insert mail merge fields in your documents or email messages.
Write a note or a letter; then print or fax it.
Email your documents to one or the entire address list.
Fax to our integrated fax driver, or to your own external fax software.
Filtering To Select Names
By setting last names beginning with "A" as the first value to include, then setting "B" as the last value, you have selected all last names in your file beginning with "A" or "B." You can narrow your selection further by repeating the process on other fields. For example, if you restrict the city field to Chicago, the filter selects all last names beginning with "A" or "B" for which the city field is Chicago.
Eliminating Duplicates
The default is to examine last names in the file with the associated zip code. This quickly finds two Andersons in the same zip code area. However, you may want to check both records to be sure they are in fact the same, including first names, addresses, etc. Other options are to search for last names associated with both an organization and zip code, or with a city and state.
Addresses
Select addresses, return addresses, graphic logos instantly.
Look up addresses in the address book or the powerful database.
Filter the address database for any field or combination of fields.
Quick Filter to quickly find all addresses that match one field.
Sort by any field by clicking on the column header.
Find and delete duplicate addresses.
Tag addresses for printing or other uses.
Print predefined Address Reports or design your own.
Design Graphic Layouts
Be sure your mailings demand attention and demonstrate the importance of your content. Quickly design beautiful layouts for envelopes, labels, and stationery; Easy Mail Plus "remembers" each one until it is changed. Save as many different layouts as you like. It's easy with our drag-and-drop method. No artistic skill is required.
Backing Up Files
The kinds of files you want to back up are selected by clicking on the type. The program "remembers" your selections. Specific files to be backed up are displayed in a list. You can delete from the list as needed with a click, and browse for a file you want to add. Designated files can be backed up with a click.
Custom Reports
As you would expect in a mailing list software package, a number of pre-configured reports are provided. But you are invited to create your own to fit your specific needs. And it's very easy to do.