Atomic Mail Sender
a safe mass email sender with a built-in SMTP server Newsletter sending software.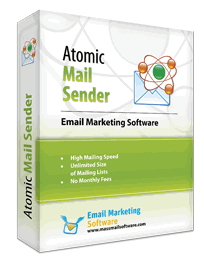 Atomic Mail Sender is a mass mailer, a utility that delivers e-mail messages directly to the recipients' mailboxes without using your ISP's mail server. This mailer supports mailing lists stored in the formats of text files (.txt or .lst) or CSV files exported from MS Excel or MS Access. Atomic Mail Sender provides basic mailing list management options: adding new addresses, removing addresses, filtering, etc. Combined together with Atomic Subscription Manager, the two software applications automate the entire process of address management. You do not have to add or remove users manually anymore!

Atomic Mail Sender is a stand-alone fast and safe mass emailer, the program does not require any additional components to be installed. All you need is a connection to the Internet. Atomic Mail Sender has a built-in SMTP server that delivers all email messages directly to their recipients without using your ISP's mailbox or mail server. Actually, it establishes a connection, imitates a mail server and puts messages to mailboxes. This trick saves your time and makes sending e-mails in bulk really safe and fast!

The number of addresses in mailing lists is not limited. You can send emails to a million people if you have such a huge address list. Simply start the program, load your mailing list and press 'Start' to begin working! Atomic Mail Sender uses direct multithreaded e-mail delivery and ensures 100% usage of your modem. Using a standard 56K modem, you can send hundreds of emails a minute.

Atomic Mail Sender is a unique program for sending mass email. The program provides safe, easy and fast way for direct mailing. It reduces delivery time by sending several messages simultaneously so if you have a broadband Internet connection, you can increase the number of threads and send mail faster!

Atomic Mail Sender is a powerful tool for personalized mass mailing that supports email merging. Each sent e-mail message can contain any personal data. You can insert the first and last names of subscribers, their ages, home pages, etc.
Software Information
System Requirements
Version:
8.20

Windows 7/Vista/XP/2003/2000
Pentium 166 or higher
64 MB RAM

File Size:
23.6 MB
License:
Free to try, $79.85 to buy
Screenshot:
View Screenshot
Rating:
Key Features of Atomic Mail Sender:
Powerful, built-in message editor
Atomic Mail Sender contains a fully functional message editor. It supports both text and HTML formats as well as attachments.
Fast delivery
Being an email user, you have to use your ISP's SMTP mail server to send newsletter messages. SMTP servers usually provide slower connection rates when compared to other Internet protocols like HTTP, FTP or ICQ. Atomic Mail Sender allows you to put email messages directly to their recipients' mailboxes without using your ISP's or third-party's free or paid mail servers. Atomic Mail Sender ensures 100% usage of your modem capabilities by establishing multiple connections at once. At the same time, regular email clients use less than 50% of available Internet bandwidth. It is the most important advantage of this mass mailer.
Secure delivery
Being a mass mailer, Atomic Mail Sender delivers e-mail without using the resources of your ISP's mailing system. Sending emails in bulk directly to their recipients, you exclude other Internet nodes from the delivery route. Thus, nobody except for the recipients can read messages. Messages do not go through your ISP's email server; they are neither logged nor stored there. Therefore, sending mass e-mails using AMS guarantees that only you and your recipients will read each message.
Managed delivery
With Atomic Mail Sender, you can control the entire process of mailing. You can start sending emails any time you want, stop it when you need to and resume the process later. You can customize outgoing messages or imitate any popular mailer, such as Microsoft Outlook or Eudora. All outgoing messages can be personalized for each recipient automatically by using macro commands. When used together with Atomic Subscription Manager, it manages the list of recipients automatically, so that you do not have to add or remove e-mail addresses manually. These programs can be fully integrated with each other so it is recommended to use them together.
over 2,000 free SMTP relays from our partner SMTP providers
SMTP Wizard that makes software setup much easier
unsubscribe link in two clicks, remove bounces and unsubscribed users automatically
adding Facebook and Twitter buttons into messages
integration with Google Analytics
support for spinned text
spam check with SpamAssassin