Taceo Pro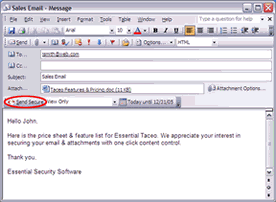 Taceo was designed to fit the digital rights management (DRM) and document security needs of individuals and small to mid-size business users. These businesses deserve the same security software advantages as their larger corporate competitors, and for this reason our software is also priced to fit their relatively smaller IT budgets.
Keeping all of this in mind, we built Taceo to automatically integrate into Microsoft Outlook, giving users the power to exchange secure information without disrupting workflow. Peer to peer (P2P) software architecture eliminates the need for costly server licenses, in addition to facilitating the receipt of secure data and content by only the authorized recipient. Taceo's "always-on" data protection travels with your content no matter where it is distributed or stored, and stays in control even if someone tries to forward your email elsewhere.
Taceo Pro gives you unlimited security and control over any size email and attachment. Taceo integrates with popular Microsoft products, giving users the power to exchange information securely without disrupting workflow.



Order Now $34.95 USD
Software Information
System Requirements
Version:
1.1

Windows 9x/Me/NT/2000/XP
Pentium or similar processor
64MB RAM

File Size:
11.2 MB
License:
Free to try, $34.95 to buy
Screenshot:
View Screenshot
Rating:
Why should I use Essential Taceo?
Individuals and enterprises who regularly exchange email and documents face the threat of losing control of their vital documents. Often once the "send" button is clicked all control over the document is relinquished.
Putting disclaimers at the bottom of emails like, "This message is for Bob Smith's use only. Please do not distribute, print, or copy any part of this email", adds no protection. By the time your information has been distributed it's too late. Also, just using encryption to secure messages for transport and control lists to prevent unauthorized access on the network doesn't cut it anymore. Once the file is decrypted it can easily be distributed to virtually anyone, anywhere. Unfortunately, the financial damage associated with loss of confidential information is estimated to cost individuals and corporations billions of dollars per year[1].


Theft and/or unauthorized distribution of confidential business documents cost the average business $42,000 last year[2].
77% of theft occurs by individuals or businesses known to the original content author.
After Viral and DNS attacks, loss of confidential business information was responsible for the greatest financial damage[3].
According to the FBI, authorized users account for 80 percent of asset misdirection and inappropriate disclosure of sensitive information[4].
Corporate espionage is on the rise. The widespread availability of password trackers, phishing scams, packet sniffing tools, etc. has made it easier (and cheaper) than ever to steal sensitive business information.
Recent legislation such as Sarbanes-Oxley, Gramm-Leach-Bliley, and HIPAA require firms dealing with any type of personal, financial or medical information to implement proper safeguards.
Internal data theft is the cause of failure for one third of all businesses[5].
Powerful. Flexible. Easy to Use.
With Taceo you can achieve astonishing document control and content security both inside and outside of your company. Taceo users can prevent and control recipients from editing, copying, printing, screen capturing, forwarding, and/or distributing their email, documents, and content to unauthorized users.
Taceo can also save you and your business money through it's low deployment costs, impressive feature list, and overall ease of use. By choosing Taceo your organization can take advantage of these cost cutting perks:


Eliminate the need for costly server setups, Taceo only requires a PC and Internet connection.
Eliminate the need to hire additional IT staff, Taceo can easily be installed and maintained by end users.
Eliminate the need for bothersome manual key exchanges.
Eliminate the need for expensive courier services.
Key Features:
Easy-to-Use Content Protection:
One click content control. The "Send Secure" button integrated with Microsoft Outlook lets you quickly control your outbound email to allow viewing by your intended recipients.
Data protection without workflow interruption. Add the security of digital rights management (DRM) controls to 30+ file types. (See all supported file formats) Prevent forwarding, editing, cut/copy/paste, printing, and set expiration dates.
Protect and deliver anywhere. Send protected files to nearly anyone with an Internet connection, email address, and a PC. (See full requirement list).
Specify trusted recipients. With Taceo, only designated recipients can open your protected email and documents.
Eliminate key exchange hassles. Securely exchange encrypted information without time consuming manual key exchanges.
Distribute unalterable documents. Freely send out attachments that cannot be edited or copied.
Secure files effortlessly. Easily protect files via drag and drop into Taceo, or access the Taceo Wizard via the right-click menu and from main application.
Simplified setup. Taceo is a snap to download and install, it takes just a few minutes and no I.T. admin is required.

Apply & Control Document Usage Permissions
Prevent unauthorized distribution (no forwarding).
Set specific expiration times and dates on protected email and documents.
Prevent document editing (no alteration, copy, or paste).
Set rights management permissions that evolve over time.
21+ rights management controls provide users powerful control over how their documents may be used or distributed.

Powerful File & Data Security
1024 bit RSA symmetric encryption.
128 bit 3-DES asymmetric encryption.
Digitally sign and encrypt any type of file.
Apply digital rights management (DRM) controls to 30+ types of files including Microsoft Word, Excel, PowerPoint, Visio, Adobe PDF, Corel Word Perfect and more.
Persistent data security over the entire lifecycle of your document, no matter how it is transmitted or where it is stored.

Small Business Compliance
Meet HIPAA Requirements for Secure Transmission (rule 164.312(e)(1)) and Access Control (rule 164.312(c)(1)) of Electronic Protected Health Information (PHI).
More Screenshots - Click each image to enlarge!