VanMail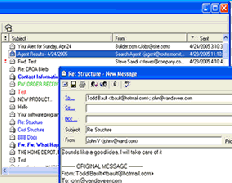 VanMail is a powerful POP3/SMTP email client that allows you to manage your email with ease. With VanMail's powerful built-in SPAM protection, you control the emails you want to receive.
With VanMail's flexible email filters, you have the ability to delete email from unwanted sources based on a key word or phrase contained in the email message which includes the sender's email address, subject line and body of the message.

VanMail's comes with a powerful rules based system where you can create rules to block emails, whitelist rules (i.e. never block), auto-response rules, alert rules, etc. VanMail also comes with an advanced challenge-response system. You can even configure VanMail to encrypt your downloaded email so that others who have access to your system can't read your email.


Download Trial 3.43 MB
Software Information
System Requirements
Version:
New

Windows 9x/Me/NT/2000/XP
Pentium or similar processor
64MB RAM

File Size:
3.43 MB
License:
Free to try, $39.95 to buy
Screenshot:
View Screenshot
Rating:
Key Features:
Fully Automated Challenge-Response System
This feature prevents you from receiving emails from unknown senders.
Ability to Block ALL Emails from Unknown Senders
This is the most drastic step you can take, but you are guaranteed to be free of spam since you are only allowing emails that are from senders in your whitelist or that contain a key word or phrase you wish NOT to block.
Block Known Spammers
This option is useful if you do not wish to delete all incoming email that is from an unknown source, but you do wish to block repeat offenders.
Create Auto-Response Emails
With VanMail you can automatically respond to an incoming email based on a key word or phrase including email addresses.
Easy to Use Address Book
With VanMail built-in address book, you can easily add and maintain your contacts by including such items as their email address, physical mail address, mobile phone, home phone, etc.
Create Alert Rules
VanMail can be configured to display a message of your choosing when you receive an email that matches a key word or phrase.
Email Forwarding
VanMail can be set up to automatically forward an email to another email addresses if the incoming email matches one or more of your key words.
Create Move Rules
VanMail can be set up to automatically move an incoming email from your inbox to another email folder of your choosing based on a key word or phrase you specify.
Block Email Attachments from Unknown Senders
VanMail can be configured to block predefined file attachments types (e.g. exe, doc, xls, etc) from unknown senders. You can even specify your own file attachment types to block.
Advanced Search Feature
With VanMail's search feature, you can quickly search all of your downloaded email for a key word or phrase. Not only can you search your email, but you can also search your rules.
Offline Email Encryption
VanMail can be configured to encrypt your email once it has been downloaded to your local system.
Run Unattended
When minimized, VanMail runs unattended and can be configured to automatically check email periodically and apply your custom rules.
More Screenshots - Click each image to enlarge!